Medical Underwriting
---
What is medical underwriting?
Medical underwriting is the process of using medical and lifestyle information to better assess the life expectancy of an individual. It provides a more accurate assessment of longevity than a standard (non-medical) process which relies on factors like postcode, age, sex and salary. It leads to more accurate pricing of DB de-risking solutions for buy-in and buy-out and offers potential for savings compared with a non-medically underwritten (standard) process.
Our approach to medical underwriting is to try to identify the conditions, illnesses or injuries that could affect a member's life expectancy in a non-intrusive manner and which can deliver premium savings when compared to a standard quotation.
A medical process is most effective for smaller segments of members and for those with higher pension's liabilities – therefore we normally only offer it for schemes or segments of 300 members or less. Such segments can be created from larger populations by top-slicing or taking all pensions in excess of a cap.
For all transactions, trustees can decide whether to employ a medical or a standard process. We're here to help so please talk to us if you'd like to know whether medical underwriting is appropriate for your scheme.
Making data collection simple
+
−
We pride ourselves on making collection of lifestyle and medical data a positive experience for scheme members. Our process is non-intrusive, effective, well tested and straightforward.
We aim to collect the maximum relevant medical and lifestyle information with minimal disruption to members. Collecting this information via telephone interview is our preferred route as it has a wide range of benefits. For example, it means that the information can be sensitively collected, with questions tailored appropriately, and at a time convenient to the member.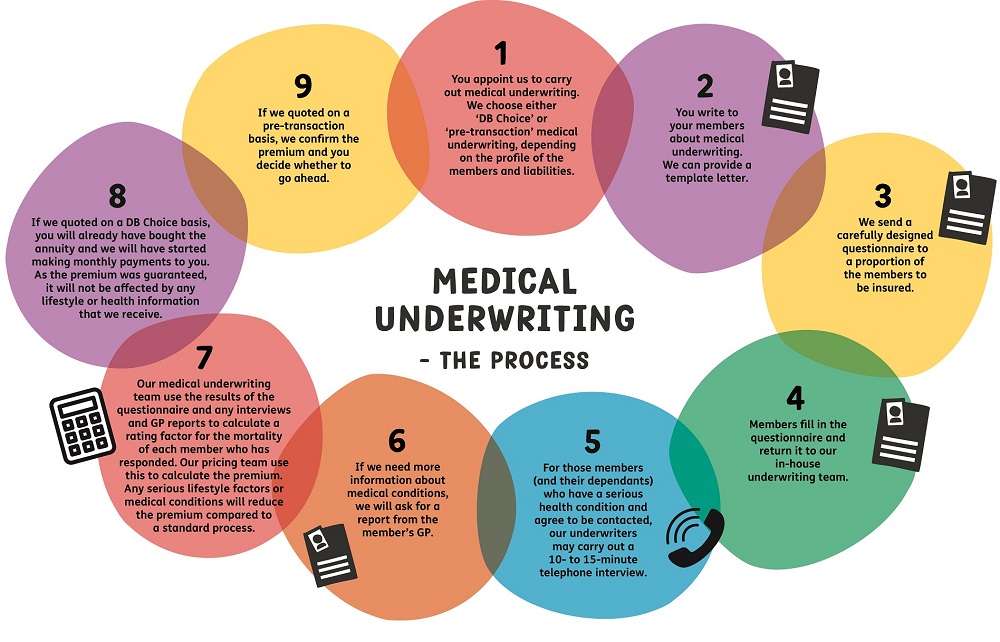 The medical underwriting process includes several steps.
Trustees appoint Just to medically underwrite and endorse the process by writing to members. After this, we send a questionnaire to the members which they complete and return. We may contact some members to conduct a short 10- to 15-minute telephone interview or request a General Practitioner Report about some medical conditions.
Our Medical Underwriting Team will use the results of the questionnaire and any interviews and GP reports to calculate a rating factor for the mortality of each member who took part in the process. Our Pricing Team use this to calculate the premium.
If we quoted on a DB Choice basis, you will already have bought the annuity and we will have started making monthly payments to you. As the premium was guaranteed, the collection of medical data will not affect the premium we originally quoted.
If pre-transaction medical underwriting was selected, we will confirm the pricing and you decide whether or not to go ahead with the deal.
The medical collection process in detail
+
−
Step 1 - Endorsement by the trustee
Trustees only need to invite members to participate – we'll do the rest. We can even supply a template letter and mail it for you.
Step 2 - Questionnaire mailed
We send members a questionnaire. We've designed this to be relatively short and easy to complete. It avoids probing for a detailed history and prompts for information on recent conditions making it easy to complete. We can now medically underwrite for around 75% of respondents based on their medical questionnaire only.
Through our exclusive underwriting process we have written to just over 2,900 members from over 100 schemes since 2012 and achieved an average response rate of 64%. These figures are correct as at 31 December 2019.
Step 3 - Telephone interview
Where members disclose lifestyle factors or medical conditions, we may follow-up with a telephone interview. This is conducted by a highly trained team. Their knowledge ensures interviews are a great experience for members and their experience ensures that during calls, they put members at ease, build rapport and ensure they feel comfortable to answer the questions required to assess their mortality.
Calls are not scripted, the knowledge the underwriting team have of medical conditions means they know where to focus and what questions to ask. This can make the calls shorter and more effective than a scripted interaction and generally results in a process which feels good for the member. For example, more recent medical conditions can be of most importance and this unscripted interaction enables the team to focus on the essential information they know is important rather than collecting a medical history which will have no impact on underwriting.
Their experience allows them to curtail calls early where members are in danger of becoming impatient or to revert to contacting doctors where this permission has been given and they require test results the member is unlikely to have access to or fully comprehend.
Currently, around 20% of respondents are underwritten on the basis of their questionnaire and a telephone interview.
Step 4 - General Practitioner's Report
For a small percentage of cases, we may request a report from the GP in addition.
Step 5 - MUW and pricing
The result of underwriting is a mortality outcome for each member that we've requested data from. These outcomes are used by our pricing team to calculate the premium which will be lower relative to a standard process if they have some lifestyle factors or health conditions.
When do we collect medical data?
+
−
Pre-transaction medical underwriting
Medical data is collected pre-transaction (this can take a few weeks to a couple of months depending on the number of members)
Pricing is confirmed
Trustees decide whether to accept the price and transact
Transaction is completed
Policy is issued and monthly funding to trustees begins
DB Choice
Pricing is confirmed so you can quantify and guarantee the value of the medical benefit before transaction
Trustees decide whether to accept the price
Transaction is completed
Policy is issued and monthly funding to trustees begins
Medical data collected post-transaction
Because the price had been guaranteed and there is no impact from underwriting, whatever the collection of medical data discloses
Why don't other providers offer medical underwriting if it's effective?
+
−
We have underwriting expertise in-house, with processes and collateral which enable us to effectively collect and manage the lifestyle and medical histories of members.
And the rest of our team have a deep understanding of the benefits and mechanics of medical underwriting.
We also have appropriate agreements in place with our reinsurers for medical underwriting.
This is not something others have chosen, or been able, to replicate so we are the only insurer actively pricing and promoting medically underwritten de-risking solutions for buy-in and buy-out in the UK.
We excel in this segment and continue to secure transactions on a medical basis where our pricing is lower than standard competitor quotes.