The use of smartphones among the retired is on the rise - but which devices are the most popular with these users?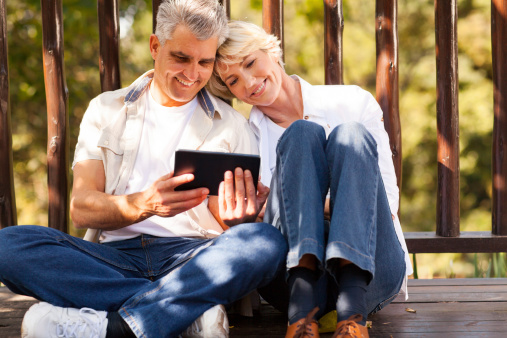 Lots of the latest smartphones seem to be targeted at younger users - and this is made particularly apparent in some of the advertising campaigns that feature teenagers sharing photos with their friends over the internet or via a smartphone app.
However, the devices are intended for everyone - and one of the best things about them is that they make it possible for people across generations to keep in touch with one another.
This is undoubtedly one of the main reasons why smartphones are increasingly popular among older people.
Indeed, Vanity Fair recently reported that Queen Elizabeth II likes to keep in touch with her grandchildren via Skype - the video call service that is available on most smartphones, as well as laptops, media tablets like the Apple iPad, and desktop computers.
With this in mind, we've come up with a list of some smartphones that are the most popular among older users.
Apple iPhone
Apple's flagship product - the iPhone - has been consistently popular with people of all ages. It is credited with popularising the idea of the smartphone in the first place when the original model launched in 2007.
This popularity shows no sign of waning - and the iPhone 6 Plus is the largest iPhone to date, with a 5.5 inch screen offering plenty of room to look at photos, watch videos and read articles online. Its font size can also be adjusted, so the text can be made larger and easier to read.
It also has very user-friendly software that is arguably the most intuitive and easiest to learn. This simplicity is one of the things that has ensured the iPhone remains a hit. However, it does offer fewer options and controls compared to some of its competitors, which makes it less appealing to those who are more confident using smartphones and want to tailor it to their own needs.
Apple released the suc​cessor to this model - the iPhone 7 - in October 2016. It's main differences from its predecessor are that it has new speakers that offer immersive stereo sound when the phone is held on its side.
It also has a new and improved camera, a slight redesign and is available in a glossy jet black finish. Perhaps most controversially, Apple removed the headphone jack to pave the way for the launch of new wireless headphones later in the year - although regular earphones are still useable with an adaptor that comes in the box.
Samsung Galaxy
The Samsung Galaxy is Apple's biggest rival - and although the S7 is the latest model, the S4 is available at a more affordable price, and is by no means obsolete.
It offers a large 5 inch screen display, as well as great sound, vibrant graphics that are perfect for viewing photos in crisp quality and a super fast processor - ensuring it is responsive and easy to use.
The device comes with internal storage of up to 32 GB, so there is no need to worry about having to buy a memory stick to store photos and videos - although they can easily be transferred from the smartphone to a computer.
Samsung's latest handset - the Galaxy ​S7 - offers a higher level of water resistance and larger external memory capacity.
This is ideal for storing either a greater number of photos or images of higher quality - and the Galaxy S7's dual pixel camera will need this. Thanks to Auto Focus technology, the camera can capture brighter and sharper images, even in low light.
Doro
Doro is a smaller smartphone company that creates devices especially tailored for people over 65. It started doing this after carrying out a survey that revealed smartphone use among this demographic is approaching 40%.
The firm's Liberto 825 is intended for first-time smartphone owners, and has software that is tailored to think like such a person might when using it.
Functions are displayed with a simple icon and clear text - such as 'Call', 'View' and 'Snap', for making phone calls, looking at pictures and taking pictures respectively.
Managing director of Doro UK and Ireland Chris Millington said: "We are creating a new market opportunity through our fresh approach to intuitive smartphone design. We will continue to launch innovative mobile solutions specifically for the senior audience in response to the changing needs and desires of this hugely important audience."
The Liberto 825 is set to launch in November and has a good quality camera with specifications approaching that of the latest devices from other manufacturers.
[Article originally published June 2015. Updated October 2016 with information on Apple​ and Samsung's latest releases.]
© 2015 Axonn Media Ltd. All rights reserved. Any views and opinions expressed in news articles are not those of Just Retirement Limited. News supplied by Axonn - NewsReach.