Our financial strength
We know that securing member outcomes is the priority for most trustees.
When you complete a bulk annuity and defined benefit assets are transferred to Just, we fund payments to your scheme or to individual policyholders after buy-out.
You benefit from the protections delivered by this insurance and by protections delivered by the UK insurance regime which includes the close financial regulation of our business by the Prudential Regulation Authority who are part of the Bank of England.
A bulk annuity delivers the following protections:
the benefits insured are protected against investment volatility, inflation risk and longevity risk
we provide a guaranteed monthly payment that exactly matches the pension liabilities you've chosen to insure, so you don't have to worry
all insurers are required by the Prudential Regulation Authority (PRA) to hold solvency capital to ensure company's such as Just can meet our liabilities to policyholders with 99.5% certainty, which is equivalent to a 1 in 200-year extreme event; and
bulk annuity policies are also protected by the Financial Services Compensation Scheme (FSCS). Bulk annuity policyholders (buy-in and buy-out) can claim 100% compensation in the unlikely event we are unable to meet our obligations. Find out more, visit the Financial Services Compensation Scheme.

Professional trustees will be familiar with these protections, but if you're an employer or member nominated trustee or a sponsor and want to know more, we'd be delighted to speak to you. Please contact any member of our business development team to find out more.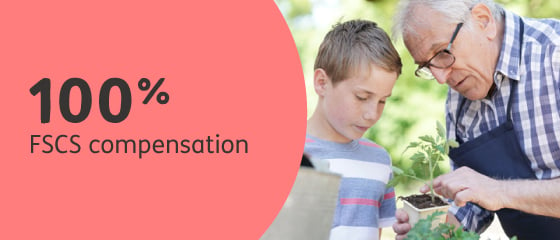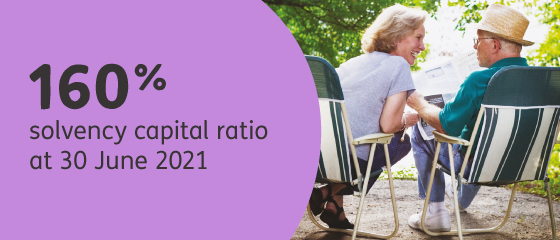 Solvency II capital coverage ratio
Our Solvency II capital coverage ratio was 160%* at 30 June 2021, up from 156% at 31 December 2020. * This figure is an estimate and allows for a notional recalculation of TMTP as at 30 June 2021 and 31 December 2020, and at 30 June 2021 the estimated impact of the adoption of the interest rate benchmark SONIA. Our detailed capital position is published in our Solvency and Financial Condition Report.
FTSE250 listed
Just Group are a FTSE250 listed company, so our shares are publicly traded. Please see the London Stock Exchange for more information.
Rated by Fitch
Fitch Ratings, the global ratings and research agency has affirmed the Insurer Financial Strength (IFS) Rating of Just Retirement Limited's our principle insurance subsidiary at 'A+' (Strong, outlook stable) at 28 April 2021.
The ratings continue to reflect Fitch's very strong assessment of Just's capitalisation and leverage, and asset-liability management. The ratings also consider the Group's strong business profile, earnings and investment risk and indicate that Fitch had a low expectation of ceased or interrupted payments and believe that we had a strong capacity to meet policyholder and contract obligations.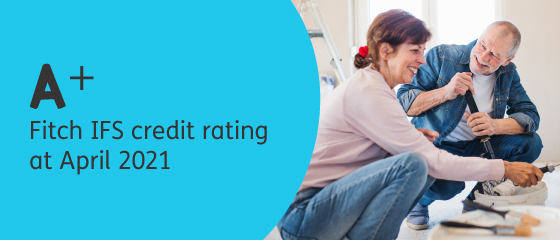 Fitch's rating action commentary
Just Group plc, results for the six months ended 30 June 2021