Our solutions: buy-in and buy-out
Our de-risking solutions deliver choice and value for trustees and sponsors. They protect trustees from members living longer than expected, investment volatility and inflation by providing a guaranteed income to pay the pension benefits selected for the members covered.
What is a buy-in?
In exchange for a single premium payment from the trustees, we guarantee to pay an income stream to the scheme bank account that matches the benefits specified for the members selected by the trustees. This is usually paid monthly.
The trustees remain responsible for making pension payments to members. The buy-in policy is held as an asset of the scheme and enables the trustees to meet future benefit payments to the members insured.
Trustees work with their advisers to specify the benefits to be covered, the members to be insured and a target price to be achieved. The benefits specified normally match scheme rules for the members covered, in which case payments from us will be an exact match to the benefits due. But it's possible for trustees to specify a subset of scheme rules (or simplified benefits) to be covered.
The level of benefits covered and number of members to be included will influence the complexity of, and therefore also the time required to fully implement the policy.
It's common for trustees to conduct a series of buy-ins, de-risking the liabilities for different cohorts of members as they retire. This is usually part of a de-risking strategy which ends in the winding up of the scheme following buy-out.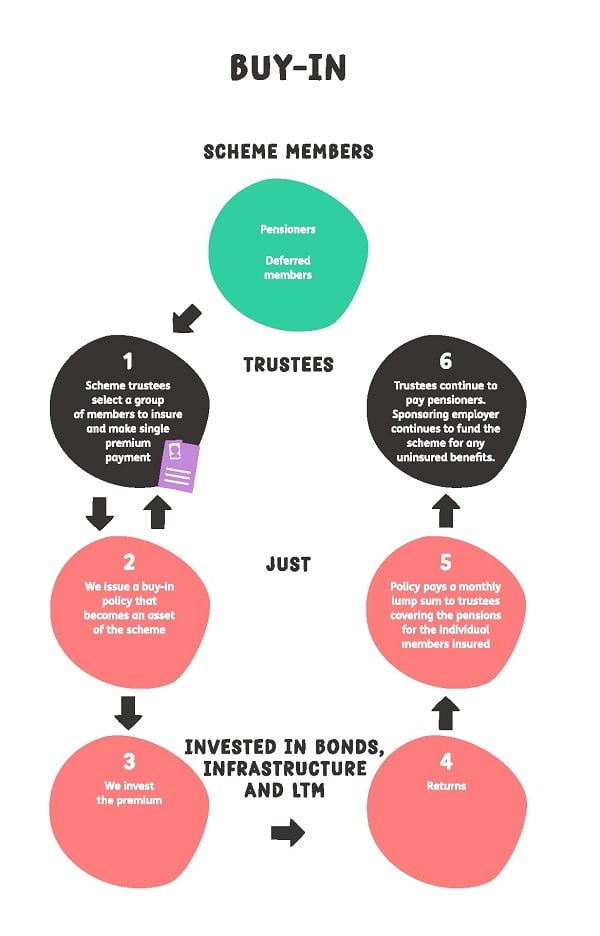 What is a buy-out?
A buy-out is the final stage of the de-risking journey when the trustees pass all legal responsibility for administration, payments and communication for the members selected to us. It's normal for all members to be covered so trustees can wind-up the scheme, but it's possible to arrange a buy-out for a sub-set of the membership.
All benefits payable under the scheme rules must be covered or the scheme rules altered to assist the buy-out. This means that normally the first stage of a buy-out is for us to issue a buy-in policy for any benefits and/or members not already covered by existing buy-in policies.
Next, we issue individual annuity policies to the pensioners and deferred pensioners covered, and they become our policyholders. We guarantee to pay an income stream directly to each member selected that is an exact match to the full pension benefits they're entitled to receive. If all members of the scheme are covered the trustees can then wind up the scheme.