In conversation with John Challis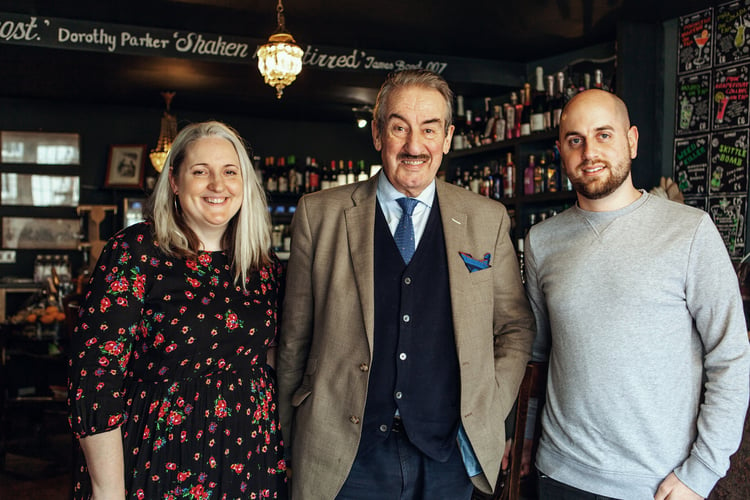 Actor, author, gardener, lecturer, singer, house restorer and history buff. Who could we be referring to?
Back in February the team at Just met John Challis, aka Boycie from the much-loved Only Fools and Horses, to find out about all the strings he has to his bow. At 76 John is in no danger of slowing down.
Since 1998 John and his wife Carol have lived at Wigmore Abbey, an eight-bedroom 12th century abbot's lodge in Herefordshire. We spoke to John in the nearby town of Ludlow in Shropshire where he and Carol seem very settled and where everyone knows each other.
What led you to Herefordshire?
"We had lived in London for 35 years and although we had Richmond Park up the road we always knew we wanted to live in the country at some point. It got to the stage where the flights grew in number and the Red Route ran past the end of our road. All of a sudden we didn't feel we were part of it any more. I had always needed to be near London for work but as business changed I realised I could live further away, have a better quality of life but still be available to work.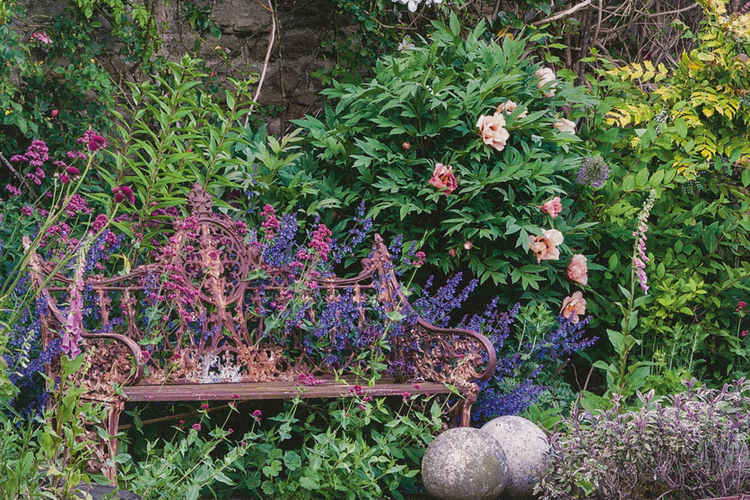 "We always had a fascination with history and definitely wanted a 'doer-upper' with land so we could create the garden we wanted, inspired by our visits to the great places and gardens around Britain. Someone sent us the details of Wigmore Abbey as a joke. We put the details to one side as it was too big and too far away, but a while later we were in the area visiting friends so we decided to take a look. We gazed at it across the ancient pasture and the hairs on the back of our necks went up. The atmosphere was extraordinary on that late autumnal afternoon. We drove around to the front of the house but we couldn't see any way to see the front of the house clearly. My wife Carol, who's much braver than I am, said she would just walk up and have a look. So she went off down the drive, met the current owner and we made an appointment to see it there and then.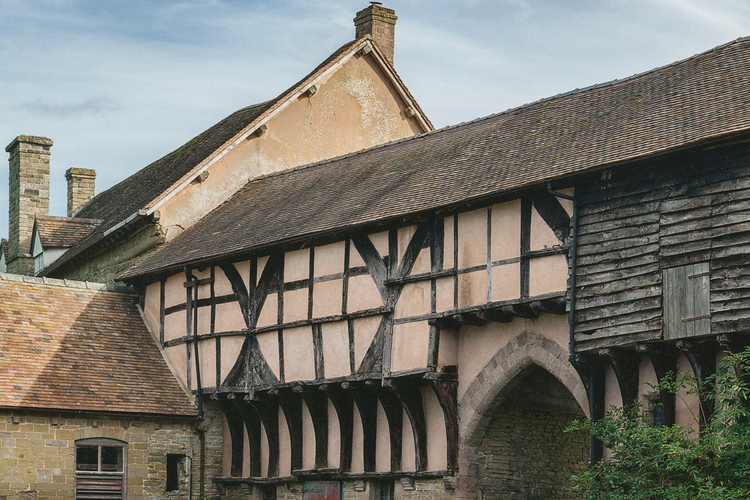 "We went inside and the atmosphere was all-pervasive, we just felt comfortable it and it had a wonderful friendly feeling. Then amazingly we discovered that Carol had a personal connection to it; we recognised a coat of arms above a fireplace. At one point we were standing in the hall and the door just off to the right was open in to the main Abbot's parlour, containing a table with a brass crucifix on it. A shaft of light from the setting sun was coming through on to the crucifix and smoke started to appear from the floor and we wondered what was going on! It turned out the owner had lit a fire in the room underneath and the smoke had come through the floor! If you believe in fate, like I do, we felt like we had to do this. We had no idea what we were doing, we hadn't take on that kind of job before. It was too big and it was too far away but it had the space, it was in this wonderful valley and we really liked Ludlow, our nearest town. So we jumped in and threw everything at it with some feelings of euphoria and some of terror, alternately really as there's so much to learn.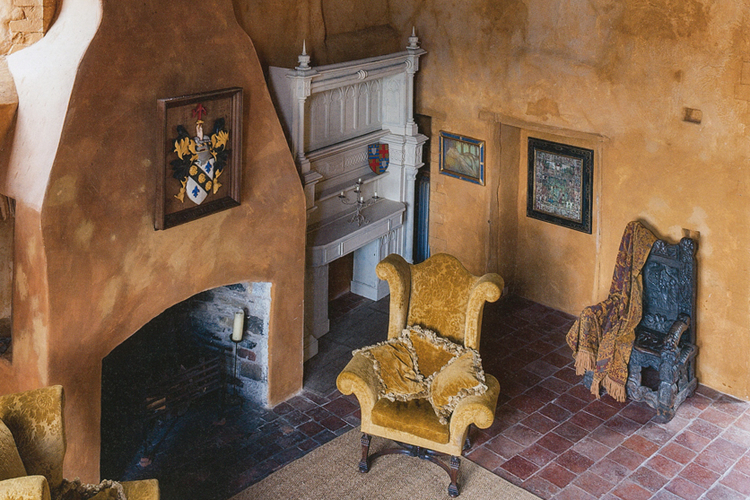 "You make mistakes as you go along but gradually we found the local people; the experts, the plasterers, the electricians, and it all started to come together. Slowly the euphoric feeling of being away from London and being in this part of the world took over and we started to feel really lucky.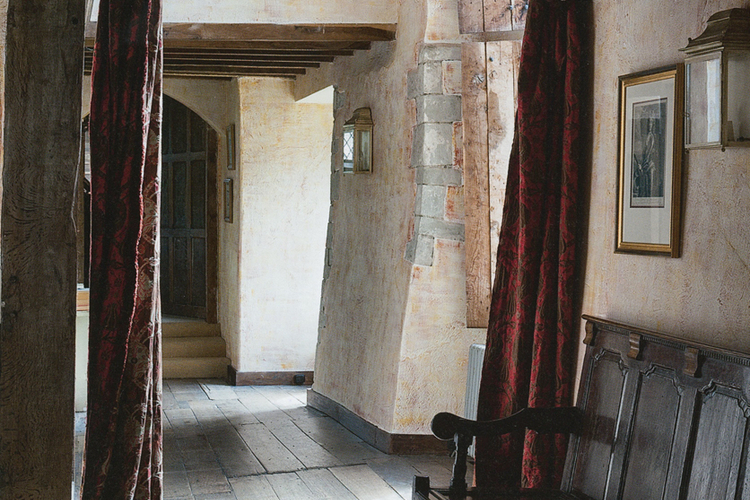 "At my 60th birthday John Sullivan suggested The Green Green Grass, the Only Fools and Horses spin-off, was filmed at our home. If we hadn't moved from London this never would have happened. Most of the major works are completed now and structurally it's very sound as the roof was replaced in the seventies. We've had our ups and downs and we still have to be wary of the weather as we find leaks we never knew we had, but what I love most is the quiet of the area. I don't know if it's just getting older but you really need to appreciate the peace and quiet."
What challenges do you find about later life? Is anything holding you back?
"I just don't have the energy I had 20 years ago; things start causing you a bit of pain, and you have to start slowing down. But with this garden, there are a lot of things I can still keep doing. Rose season is coming up so I spend at least an hour a day just pruning and cutting back. I get help in to do the heavy work but I still want to be doing what I can. There's also something about what I do for a living, getting up on stage, and I still have that in me. I still want to go out there and do different things. I don't know what it is but it's something I have to do. I like playing other people and the variety of the work. Dylan Thomas's poem 'Do not go gentle into that good night' talks of raging against the dying of the light and that's how I feel. I find it difficult because I can't do what I used to do but I still feel like I should still have the same energy."
Your favourite gardens are Giverny, Sissinghurst, Great Dixter, Morville Hall, Wisley and Kew. What is it about these gardens that you love so much?
"I think it's the variation within those gardens; Great Dixter is planned in a particular way, but others like Giverny are less formal. We aren't formal people, we love romantic chaos! The White Garden at Sissinghurst is stunning and that's what we wanted, areas of colour blocks together. We've got a more formal area, then a wild area, an orchard, then our chaotic borders which take a lot of looking after. The idea is that it can all bleed in to the landscape and the depleting wildlife issue inspired to attract the butterflies, bees and birds back in to the garden with particular plants.
"Levens Hall in Cumbria has the most amazing topiary, fantastic shapes from box trees. That's another thing that we would like to try in the future as we have box trees here. Our taste is for romantic neglect which sounds a bit lazy really but we'd both had experiences as kids of going to some rambling places. In my case it was a run-down deserted tennis club with the pavilion still there and the grass overgrown. I found it absolutely fascinating and it reminded me of the Sublime Movement in the sixties where art symbolised life and decay. There's just something about the atmosphere of it which is of a great interest to me.
"We still have the opportunity to improve parts of the grounds as we have some ruined stables which are still as we found them. The old stalls and the saddle hooks are so atmospheric and beautiful to look at. We are doing very well with the ruins of the abbey as we have English Heritage who granted us some money for the restoration, so the next stage is the gatehouses and the stables, but we've got no immediate plans to start work on them. As we've got older we are less able to do things for ourselves so we do have to pay for labourers to come in. Another thing is that in 20 years the gardens have grown so much. The rambling roses we thought looked beautiful are now everywhere so we have a lot of maintenance in the garden. People say 'Don't make your garden too tidy' which is true as you give yourself so much work to do."
If you knew how much work you were taking on, would you ever have reconsidered buying Wigmore Abbey?
"No, absolutely not. There are times where we wonder how we're going to complete a project but we always get through it, every time we get to that stage something will pop up work-wise which will help us and we've been able to continue on the journey.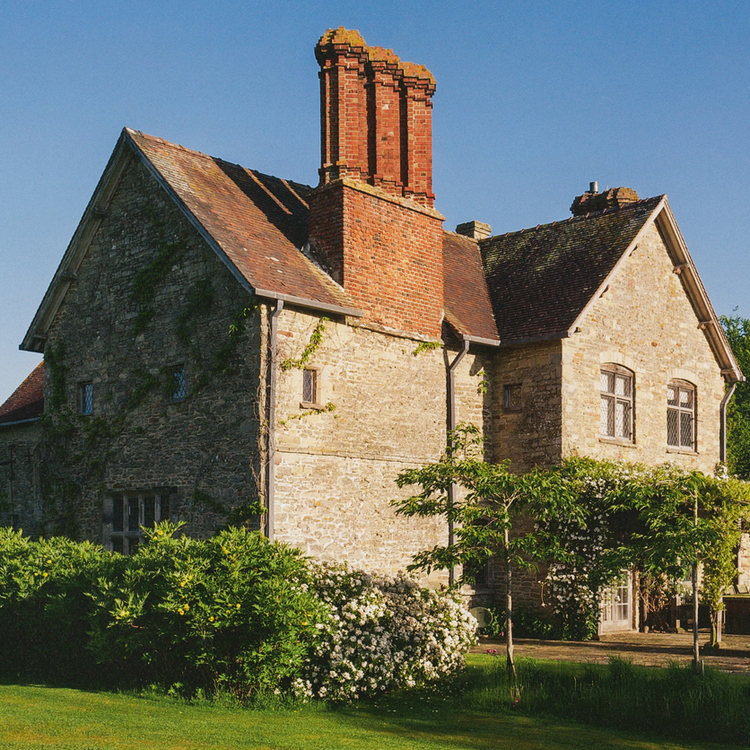 "Carol and I have similar tastes in design which fits in with the aesthetic of the house and you find out what fits and what doesn't, but there is a part of me that has questionable taste and I soon find out when I come home what my wife thinks of it! Carol has a great eye for design so I've left that area to her to control."
How do you see yourself in ten years' time?
"We will still be at our house, it's been our mission and it's still a massive part of our life. The only problem is that I've still got to earn a living to pay for the house and future projects. Leaving the house would be a massive wrench and we still feel that we've got so much more to do. We feel a responsibility towards the house."
What tips do you have for anyone taking on five acres of land?
"I would say go for it, try it because nothing is irrevocable. We were prepared for it but we also accepted that if it didn't work we would do something else. Friends in London said we would be back in a year but we've never wanted to leave. We are three and a half hours from London and it was a big part of our lives for so many years but it is no longer, it's a place I go back to sometimes to work.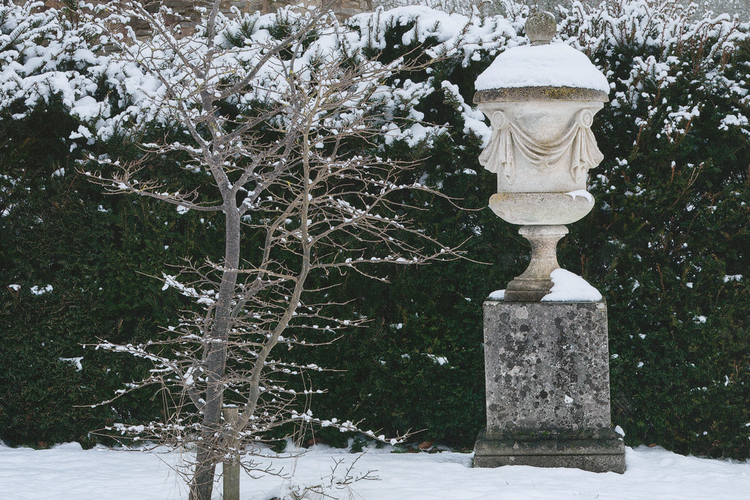 "There are certain bits of it you miss but that's more the London of the seventies and early eighties, rushing between studios in Soho, but now it's a younger person's place. Do something you want to do and give it a go, if it's a lifestyle choice you should give it a chance."
What keeps you feeling young?
"Being curious, exploring places, and also revisiting my youth. We go to a lot of concerts, the last one we saw was ELO and we've seen The Rolling Stones several times. When I'm not working away I force myself to get outside and do at least an hour of something every day, whatever the weather, as it needs doing and I need to be doing it. I write a lot; I've written my autobiographies, the book about our house and a few novels, which is a lot of fun. We also run a publishing company from our house.
"I love watching sport, mainly cricket, but haven't played for a few years. The last time was a charity match with Freddie Flintoff where he threw a ball and I thought I could field it but I was slower than I thought and got hit on the shin. I was reluctant to play as I knew I wasn't fit enough and as I went out to bat and saw ex-professional test match cricket players I knew I was up against it! But we raised a lot of money for Help for Heroes so it was all for a good cause."
"I saw my grandfather, who was a steelworker from Sheffield, retire and within two and half years he was gone. He sat at home, never went to the pub, lost all his friends. This house and garden, and my job, keep me busy."
Only Fools and Horses has the ability to appeal to all generations, it's been 16 years since the final episode aired yet you still get both younger and older people watching it now and finding it just as funny as ever. Why do you think it's been so successful over the years with so many people?
"John Sullivan was a great writer and I don't think he can be matched. It wasn't only the jokes and the funny characters but the construction of the stories. It was quite complicated but brilliantly funny, and everyone can identify with it because he wrote about people's lives. He wrote not just about interesting things that happened in silly situations but also about difficult subjects like Cassandra's miscarriage, and Boycie and Marlene's inability to conceive. These are big problems for a lot of people. John always said he was lucky to have the actors he had in those roles but of course we all said we're lucky to have the words. As the characters developed he felt he could write more for them and develop these stories and that is very rare.
"I remember around about the fourth series, people started coming up to us in the street and saying how much they loved a particular episode and that a similar thing had happened to them or someone they knew. One time a woman came up to me, her son was a massive fan of the show and he had had a terrible motorbike accident and was in a coma. She had the idea of playing the Only Fools and Horses theme tune to him and some of his favourite episodes. Lo and behold he came out of the coma and she was convinced that it was his favourite tune that brought him around!
"John Sullivan was many things but he was a great family man and was very passionate about the underdog particularly. He was a great socialist and that passion came out in his writing. Del Boy was a great anti-hero and had a touching relationship with Rodney, who he essentially brought up. When Lennard Pierce, who played Grandad, died, it was a big moment and everyone was wondering what happened as you needed those three people to bounce off each other. John Sullivan came up with the idea of burying 'Grandad' and having a whole episode dedicated to those scenes. It was miraculous what John did with the script as it was a miserable day of filming, burying the character but also saying goodbye to the actor, and he made you smile at the end of it as he got buried with the wrong hat! That was John, able to find humour in the strangest of situations and leave people smiling."
The premiere of the Only Fools and Horses musical is this Saturday, what's your opinion on this? Have you been given a sneak peek?
"I actually didn't know it was happening until the news came out about it on the internet. Nobody knew it was going to happen. Pretty soon you realise you're not in it! I'm sure it will do very well and a precedent was set already when John Sullivan wrote Rock and Chips so people have seen younger versions of our characters and it won't be too much of a shock to see them on stage. We're going to the first night and from what I've seen it looks really good. I think it will do really well, much like Benidorm the musical which is doing terribly well everywhere it goes."
What is your favourite Only Fools memory?
"It's not one that you would have seen but we were filming the episode The Jolly Boys Outing and one of the crew suddenly turned up at the unit blasting out Eric Clapton's Lay Down Sally. We were hanging about waiting to be called on set and Kenny MacDonald who played Mike Fisher, the landlord of the Nag's Head, Roger Lloyd-Pack, who played Trigger and me were clustered around and all started doing air guitar and a Shadows walk together. It grew and grew and we found we had this audience made up of most of the crew and as the song finished there was a big round of applause! We decided we were the supergroup that never happened. It's my favourite memory and was totally music-based. Another time during filming I had my car there and Paul Barber, who played Denzil, was with me as we drove off singing The Beach Boys songs. We got to a roundabout and California Girls was playing so we kept driving around the roundabout singing along!"
You hate getting asked the same questions over and over, what do you get asked the most?
"Yesterday I was on the train down to London, hat on, reading a newspaper, hoping I can be anonymous and get the journey over with, but you can tell someone has realised who you are, just by their movement. People get their phones out surreptitiously, and then eventually someone comes over and says 'Excuse me, I'm sorry, you must find this really boring, it must happen all the time!' and I say 'Yes!' then they say 'Can I be cheeky and ask for a photo?' Inwardly you think 'Oh no' but how can you refuse? It does mean a lot to people, that's what you've got to remember. These people have put the TV on, watched you and put you where you are."
For more information on John Challis's books go to: wigmorebooks.com