Why Just?
Our mission is to be the DB de-risking provider of choice for small and medium sized transactions. We're achieving this through product innovation, the scale and composition of our annuity asset portfolio and a focus on service quality to deliver value and security for schemes who de-risk with us.
We've an enviable track record of bulk annuity transactions
We've completed over 200 transactions, including over 45 buy-outs and repeat transactions with over 20 schemes, since we launched our defined benefit de-risking proposition in 2012. We're especially proud of these repeat transactions, because they speak volumes about the quality of the service and attractive pricing we deliver. After all, why would trustees come back to us otherwise?
We'll normally quote when schemes can show they're transaction ready
When deciding whether to quote, the scale of the transaction is not normally the deciding factor, it's about schemes being able to demonstrate they're transaction ready. Speak to us if you are considering coming to the bulk annuity marketplace and we'll be happy to talk to you about what you need to do to secure insurer engagement and get bulk annuity pricing from us.
Support for trustees and your administrator
Our priority is to make the journey from transaction to administration a smooth one. Our team are committed to providing the best possible service for trustees, members and for our policyholders after a buy-out.
We've co-authored the 'Bulk annuities made simple' guide with the Pensions and Lifetime Savings Association (PLSA) to help you prepare for your bulk annuity and demonstrate that you're prepared for the transaction.
You can also download ourour latest guide preparing for a bulk annuity which can help trustees secure insurer engagement and our transition guide so you can brief your administrator on what to expect during and after a bulk annuity transaction.
And once you've transacted a buy-in, we'll keep your trustee board updated on the performance of your bulk annuity as an asset and can also provide valuable regular pricing updates so you know the cost of your next transaction.
A secure insurance counterparty
We've been independently rated by Fitch, a global leader in credit ratings, who reaffirmed the Insurer Financial Strength (IFS) rating of our principle insurance subsidiary Just Retirement Limited (JRL) as 'A+' at May 2020 and revised Just Retirement Limited's and Just Group plc's (Just Group), the group's ultimate holding company, outlook to negative from stable.
This IFS rating denotes that Fitch have a low expectation of ceased or interrupted payments, and believe that we have a strong capacity to meet policyholder and contract obligations. You can view Fitch's key rating drivers in their update.
Purchasing a bulk annuity also provides security delivered by the UK insurance regime:
The benefits insured by a bulk annuity are protected against investment volatility, inflation risk and longevity risk. We provide a guaranteed monthly payment that exactly matches the pension liabilities you've chosen to insure, so you don't have to worry.
All insurers are required by the Prudential Regulation Authority (PRA) to hold solvency capital to ensure we can meet our liabilities to policyholders with 99.5% certainty, which is equivalent to a 1 in 200 year extreme event.
Our bulk annuity policies are also protected by the Financial Services Compensation Scheme (FSCS), backed by the Government, which pays 100% compensation for benefits insured if we're not able to.
Just DB Solutions 2020 DB journey planning summit
In 2019 we held our inaugural DB journey planning summit with the support of Pensions Age. 20 industry leaders including trustees, lawyers, consultants and consolidators delivered educational and practical advice to an audience of 160 trustees, employers and consultants on how to manage the DB de-risking journey.
Our second summit was due to take place later this year. Due to Covid-19 it's currently on hold, but we'll be in contact with our 2019 registrants once our plans for the next summit are confirmed.
Defined Benefit Solutions – recent awards
What do others think of us? In 2019 our DB Solutions team were awarded Risk Management Provider of the Year at the Pensions Age Awards 2019, where we were commended by the judges for applying innovation in "leaps and bounds." We were also awarded Pensions Insurance Firm of the Year at the European Pensions Awards, which recognises our performance in providing bulk annuities to de-risk pension funds.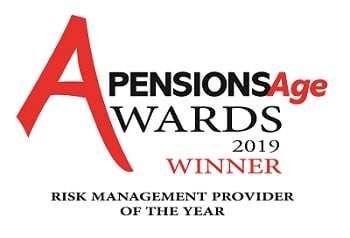 Services for our policyholders after buy-out
We've worked hard to improve the experience for our policyholders after buy-out:
Nearly all customer facing literature has been rewritten to Plain English standards, and many items have achieved Crystal Mark status
Our dedicated service team manage queries at retirement wake-up
Our telephone-based Pension Decision Service helps deferred members understand the value of their DB benefits and can explain what other options available
All policyholders have access to our online benefits portal. It gives them control and flexibility to view their pension online, including details of payments and their policy. It also provides servicing functionality so they can update personal details including their address, contract details and bank details.
For trustees considering a bulk annuity, we can run a Meet Just event for your members. This is where we can introduce Just, explain the benefits of a bulk annuity, reassure your members that nothing fundamental changes and introduce the services we provide for our policyholders. Contact us to find out more.
Our asset sourcing capability
With over £23bn assets under management at 31 December 2020, we're a significant consolidator of DB and personal pensions. This scale allows us to source long duration and high yielding assets, including utilities, social housing, lifetime mortgages and private placements that are well matched to the liabilities of DB schemes. These assets enable us to offer attractive bulk annuity pricing to trustees.
Streamlined quotation process - the fast track way to get a buy-in quote
Consultants have been telling us that because demand in the market is at record levels, it's becoming harder and harder for them to secure insurer engagement to quote on transactions, particularly for smaller cases. We've listened and that's why we've launched our Streamlined Quotation Process that makes it quick and easy for DB pension schemes to secure a bulk annuity quote.
Schemes should speak to their actuarial or de-risking consultant to find out about this service. If you're an existing client, you can speak to your usual BDM contact.
Monthly pricing updates
We can normally supply your consultant with pricing points that provide indicative pricing for a typical scheme member across a combination of age ranges and pension increase flavours.
This can help pension consultants estimate buy-out pricing and support discussions with trustees who are thinking about approaching the bulk annuity market. Our pricing points can also be used to develop in-house solvency estimates for triennial valuations.
Want to know more?
To find-out more about any of our services, please email dbenquiries@wearejust.co.uk or call any member of the BDM team.