Administration process and capability
---
Looking after you and your members
Our priority is to make your journey from transaction to administration a smooth one whilst delivering the best possible customer service for you, your members and our policyholders.
All elements of our administration process have been carefully designed and are managed by our in-house defined benefits operations team, who are experts in pensions and defined benefit de-risking.
They work with our external administration partner to provide scalability and support our service delivery. However we oversee and retain full accountability for their work and remain the point of contact for your administrator throughout the lifetime of your policy with us.
Buy-ins: Management and the administration process
+
−
One of our client relationship transition managers ('transition manager') will be the main point of contact for you and your administrator, offering support and guidance at every step of the transaction.
Our transition managers have extensive experience with the majority of third party pension administrators. We agree and document our processes and timescales keeping you and your administrator informed at all stages, managing delivery and expectations giving you ultimate peace of mind.
The administration process for buy-in
Step 1 - Project Kick-Off meeting
We meet the trustees, your administrator and your advisor, to discuss the scheme and benefit structure. We agree requirements for data cleanse and monthly reporting and timescales for the transaction.
This ensures everyone understands what's expected and their contractual commitments.
---
Step 2 - Monthly payroll funding
We begin paying your regular monthly lump-sum payments.
Your administrator provides monthly movements.
This ensures the payment process works and fits with your current administration processes.
---
Step 3 - Data cleanse
Guided by our transition manager - your administrator confirms the existence of members and verifies their personal details
Then, they supply us with the Finalised Data Schedule (FDS) and Finalised Benefit Specification (FBS) for the benefits to be insured.
This ensures accurate details of the members and the benefits to be insured are agreed.
---
Step 4 - Data validation
We check the FDS and FBS to ensure they cover the members we originally quoted for.
Once this benefit validation is complete, the FDS and FBS are signed-off by you and us. Then it's used to calculate the final premium, future payroll and benefit payments.
This ensures the data provided by your administrator is as expected and sufficient to price the policy.
---
Step 5 - Finalise premium and create 'shadow records'
We use the FDS and FBS to calculate the final premium due and make any adjustments to the cash flows paid to date, a process we call 'true up'.
Our administrator uses the schedule and specification to set up shadow records which enable us to apply member movements and calculate accurate monthly funding and any balancing payment.
---
Step 6 - Ongoing reconciliation
Each month we create and supply a monthly payment schedule to your administrator so they can reconcile the member payments against their records.
This ensures the monthly payments we make to individual members are accurate and in line with the benefits you've insured.
---
Step 7 - Ongoing Policy Administration
We pay the monthly sum due and the process of payroll calculation and reconciliation repeats each month.
We continue to create and supply a monthly payment record, conduct quarterly mortality screening and regular audits of your administrator's policy processes.
Your administrator continues to confirm details of movements and existence of unverified deaths and completes annual certificate of existence checks for overseas members.
These are used by us to adjust monthly payments so they're accurate. Mortality screening reduces delays in death notification and likelihood of fraud. Audits ensure adherence to agreed policy terms and provide an opportunity to discuss the policy administration with your administrators, providing support throughout the process.
Buy-outs: Management and the administration process
+
−
Buy-out is the final stage of any de-risking journey. We replace buy-in policies with individual annuity policies and take-on all responsibility for the insured benefits of members as they become our policyholders.
Just Group have helped over 600,000 customers, so the culture of administrative excellence is well embedded across our business. This helps ensure our member experience is of the highest standard and applied across all transactions and communications.
For schemes that go straight to buy-out, the initial five stages of buy-in are completed. Then we begin the buy-out process…
The administration process for buy-out
Step 1 - Project Kick-Off meeting
We meet with you, your administrator and your adviser to discuss the current operation of the scheme, flush out any complexities or specifics, check any required data and agree timescales.
This ensures everyone understands what is expected and their contractual commitments.
---
Step 2 - Payroll set-up and data validation
Monthly lump-sum payments to trustees commence.
Ahead of buy-out, your administrator provides details of member payroll reporting. Once our payroll is set up and tested, we work with your payroll to close their records ahead of the transfer.
Our administrator uses this information to set-up parallel payroll runs ahead of payroll transferring to us. We also undertake a reconciliation between administration and payroll to ensure consistency of data between insured benefits and those paid to members.
This ensures individual policies are set-up accurately so that payments to your members are accurate when they become our policyholders.
---
Step 3 - Policy terms issued to scheme lawyers for approval
We check the annuity policy terms deliver the insured benefits and issue to your scheme lawyers for final review.
This process is supported by our legal counsel, who manage any issues that arise.
This ensures there are 'no surprises' when the individual annuity policies are issued and they're consistent with the scheme rules and deliver the insured benefits.
---
Step 4 - Trustees sign the buy-out instruction and we issue individual annuity policy documents
We issue all insured members with a welcome pack including annuity policy documents, and a member's guide, including our member helpline details, and they become policyholders of Just Retirement Limited (Just).
---
Step 5 - Payroll and administration is transferred
All responsibility for the scheme transfers from trustees and your administrator to us.
Our administrator issues P60s and annual increase notifications, support the bereavement process and provide retirement options for deferred policyholders as they approach retirement.
Our dedicated team are available to help our policyholders with any questions relating to their benefits.
---
Step 6 - Ongoing payroll payments commence
We start payments to policyholders, issue P60s, start quarterly mortality and HMRC sanction screening and annual increase notifications.
Our administrator sets up and maintains individual policyholder's payment records.
Our Operations Team check records each month to ensure payments are correct before they're made.
How our expertise benefits you?
+
−
We provide you with a single dedication point of contact
One of our experienced transition managers will be your sole point of contact to support and guide you throughout your buy-in or-buy-out journey.
We plan the process from start to finish so you don't have to
We highlight the key milestones and dependencies throughout the process to help ensure it's efficient and transparent.
We have extensive knowledge and experience
We've worked with most third party administrators and have an understanding of their current systems and processes so know how best to partner with them.
We help your administrator
We work with your administrator to advise them on the data cleanse process to minimise impact on you, and support them throughout the process.
We report to you regularly
We provide our trustees with regular updates throughout the transaction process so you're aware of any progress, issues or delays.
We provide a toolkit that can be shared with your administrator
We can develop our toolkit of documentation, checklists or data/ reporting templates to meet yours and your administrator's needs.


We start with the end point in mind
By kicking-off transition with the end point in mind, we're focused on achieving ongoing administration as quickly as possible.
Supporting our policyholders
+
−
Following buy-out, your members become our policyholders. With more retirement options available now than ever before, it's important we're able to effectively support deferred policyholders and bereaved dependants.
We have a dedicated policyholder helpline, email and postal address managed by our administration partner and experienced 'Just' team. Although they're unable to give financial advice, they can provide guidance throughout this process, answering any questions and pointing users to other helpful sources.
We aim to respond to all correspondence within 5 working days of receipt. If the enquiry is complex and we're unable to answer in full within this time scale, we will ensure the policyholder is kept up to date with progress along the way.
Managing our administration partner
+
−
To provide scalability for buy-in and buy-out, we've secured a long-term contract with an administration partner. We retain full responsibility and control of the services provided, manage them with robust operational controls to monitor performance and have a relationship manager in place to oversee the contract and ensure service standards are met.
They provide 'shadow' administration for buy-ins and full administration, including policyholder helpline for buy-outs.
Service standards agreed with our administration partner
Here are our key service level standards:
Member queries – three working days
Death processing – five working days
Payroll payments – on agreed payroll date
Pension increases – processed ahead of payroll payment date
Provide benefit quotations – five workings days
Pension put into payment – on retirement date or within five working days of receiving all information
Transfer quotations - 15 working days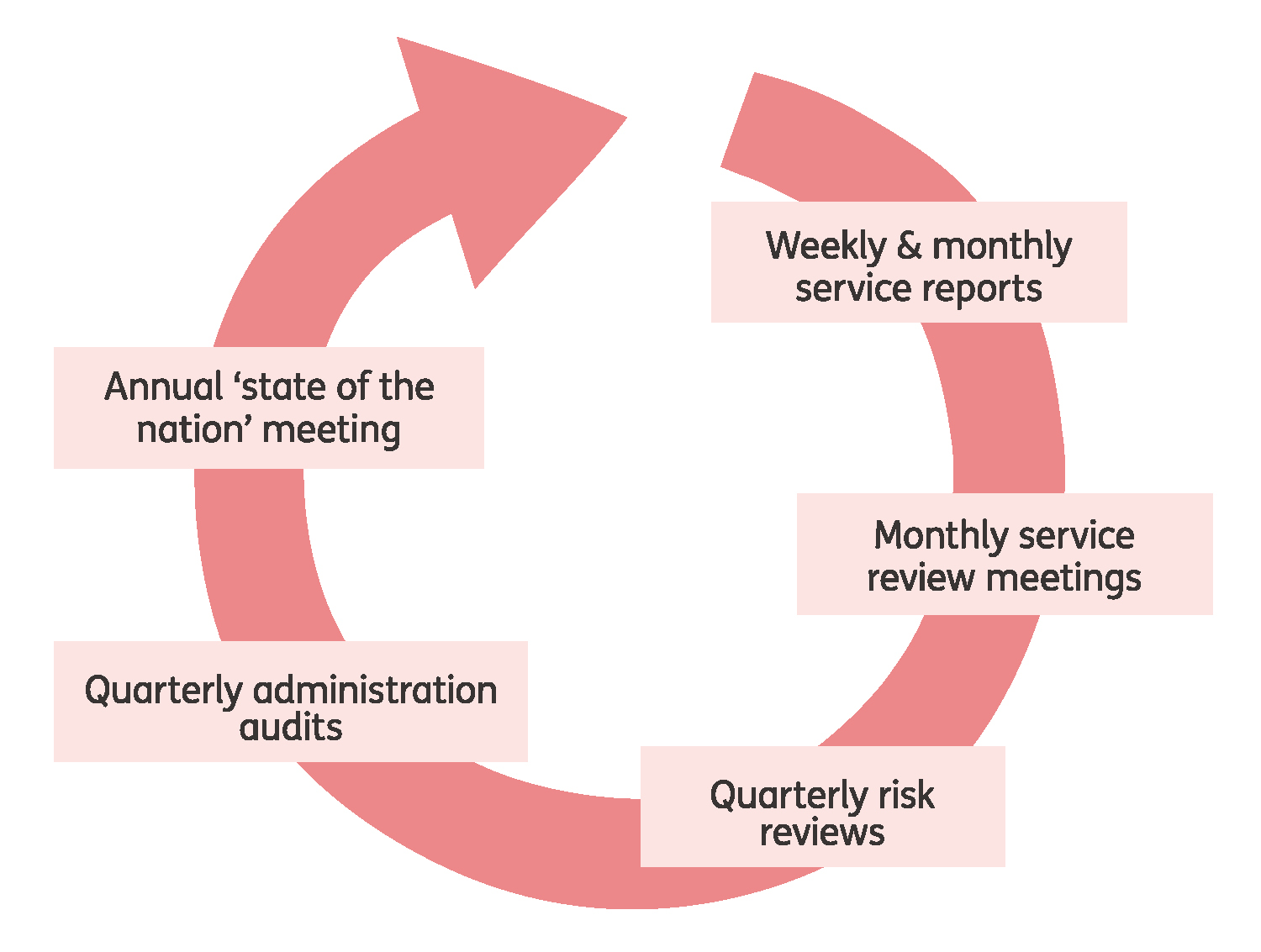 Regular reviews, reporting and audits
We monitor performance weekly so any issues are quickly identified and dealt with. The results are collated in a monthly service report which covers our overall service including quality, customer compliments and complaints, new scheme implementations and compliance matters. We review our performance at monthly service review meetings.
To proactively minimise business risk, as part of our control framework we complete quarterly risk reviews. We also complete quarterly audits of payroll and administration teams to show how we're adhering to the agreed processes whilst maintaining quality and accuracy.
An annual 'State of the nation' meeting gives us the opportunity to reflect on the previous year and plan for the future.
Improving administration standards
+
−
We are a corporate member of The Pensions Administration Standards Association. They are the independent body dedicated to driving up standards in pension administration. This membership demonstrates our commitment to delivering administration excellence.