What we do: buy-in and buy-out
---
An innovative approach to buy-in and buy-out solutions
Our de-risking solutions are designed to deliver choice and value for money for trustees and sponsors. We can support you with buy-in and buy-out options and both can be priced on a medically underwritten or standard basis. Our solutions protect trustees from increased longevity and investment volatility by providing an income to pay the benefits of the members selected.
Medical underwriting that can deliver pricing advantage
In addition to our standard pricing solutions (without medical underwriting), we have innovated propositions that help trustees to maximise the potential of the assets available by de-risking with medically underwritten solutions.
We have developed DB Choice which delivers guaranteed medical and standard prices pre-transaction so you can compare our prices with the market and quantify the value of the medical benefit at the start of the de-risking process. We also continue to offer pre-transaction medical underwriting. These solutions enable trustees to choose the amount of medical risk and consequent pricing reward they want to accept.
Medically underwritten bulk annuities can deliver pricing advantage when lifestyle factors or medical conditions are uncovered as part of the medical underwriting process.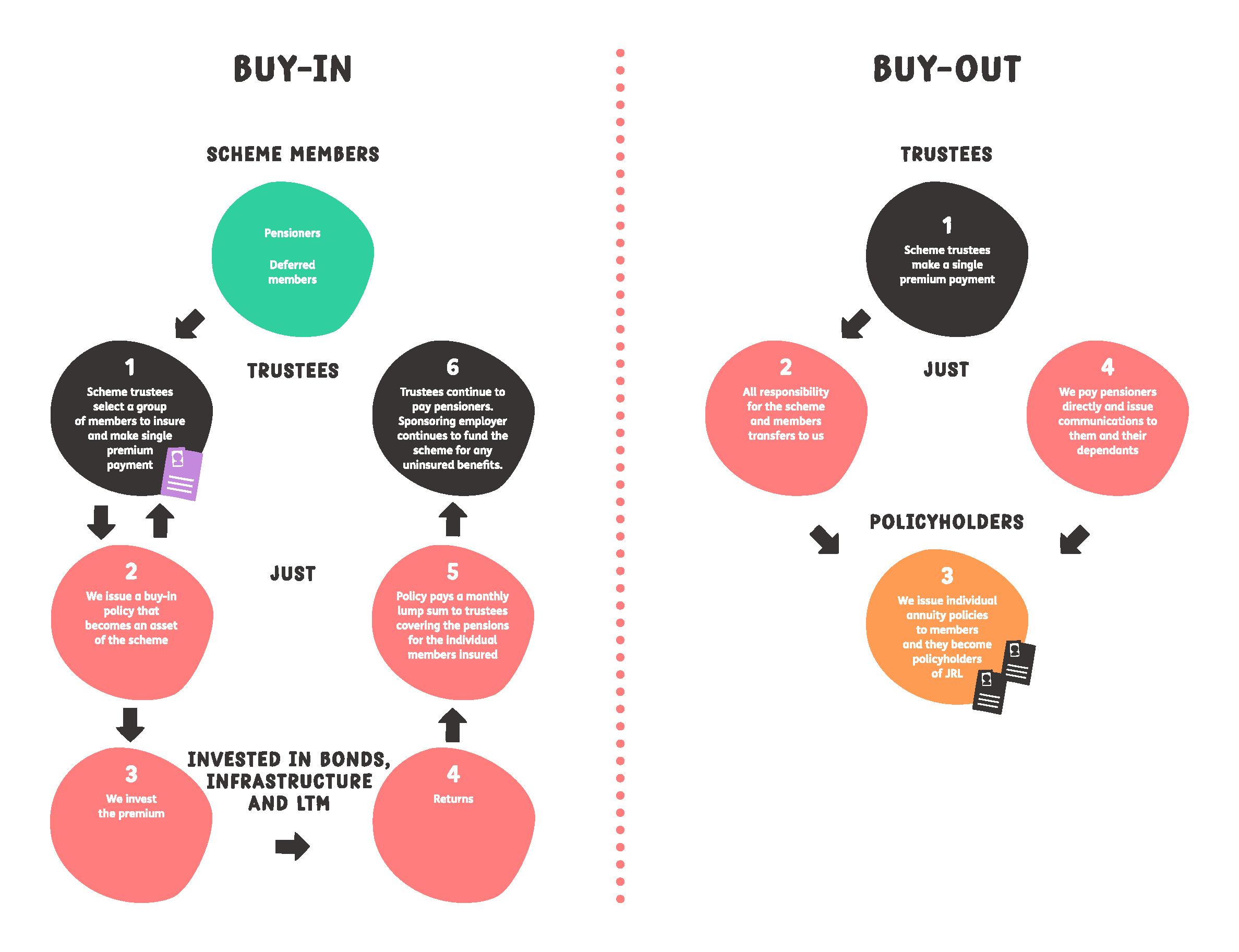 What is a buy-in?
A buy-in is an insurance policy that can be purchased in exchange for a single premium payment from the scheme. It provides an income stream to the trustees that is an exact match to the benefits insured. The policy is held as an asset of the scheme and enables the trustees to meet future benefit payments to insured members.
Trustees and their adviser select which segment of members they would like to insure. This is usually all or some pensioners but can also include some deferred members.
Once the buy-in has completed, the longevity, inflation, demographic and investment risks transfer to us in exchange for a lump sum from the scheme. The policy we issue pays a monthly cash flow to the trustees who retain responsibility for making payments to their members.
Trustees often conduct a number of buy-ins over time, de-risking the liabilities for groups of members who have recently become pensioners, usually as part of a de-risking strategy which typically ends in the winding-up of the scheme.
What is a buy-out?
A buy-out is the final stage of the de-risking journey when the trustees pass all responsibility for members to us.
In exchange for a lump sum from the scheme, we issue individual annuity policies to each member. Alternatively, a buy-in policy can convert into a buy-out through the issue of individual policies at no additional cost.
We take on legal responsibility for members, who then become policyholders of Just Retirement Limited. We also take over all future payments and communications including payment of their benefits, calculation and payment of increases, queries, triviality and bereavement.
Unlike a buy-in, this allows the sponsoring employer to remove the scheme from their balance sheet and the trustees can 'wind up' the pension scheme and relinquish all responsibility for members.