Investment capability
---
Ensuring we can pay policyholder obligations
Our Defined Benefit solutions are provided by Just Retirement Limited (part of Just Group plc). Our investment strategy enables us to provide attractive pricing to customers and to optimise risk-adjusted returns for shareholders. In addition to this, we ensure that cash flows from assets under management are sufficient to meet payment obligations to our defined benefit buy-in and buy-out policyholders and Guaranteed Income for Life customers.
Our investment objectives are:
To lock into attractive risk adjusted yields which support competitive pricing and attractive profit margins on our business.
To invest in a prudent portfolio of investments which generate cash flows which closely match our policyholder obligations in all future years.
To maintain a portfolio which is as capital efficient as possible.
We do all of this subject to prudent risk management policies and we also focus on ensuring we meet the matching adjustment requirements of Solvency II.
These objectives are made achievable by the key underlying feature of our business: our liabilities are illiquid and highly predictable. Once a customer has bought one of our products, in most cases they cannot surrender the policy and, at a portfolio level, our IP in medical underwriting allows us to predict future outflows with a high degree of confidence.
This means we can follow a 'buy-and-maintain plus' investment strategy, identify attractive bonds that meet our criteria and then hold them to maturity. We can ride out short-term volatility in credit markets, focusing on the underlying cash flows that the bonds produce rather than worrying about fluctuating credit spreads. All this is subject to limits which avoid excessive concentration by sector, rating category, single issuers or non-sterling exposure.
Assets under management - bonds
+
−
Assets under management and assets by sector*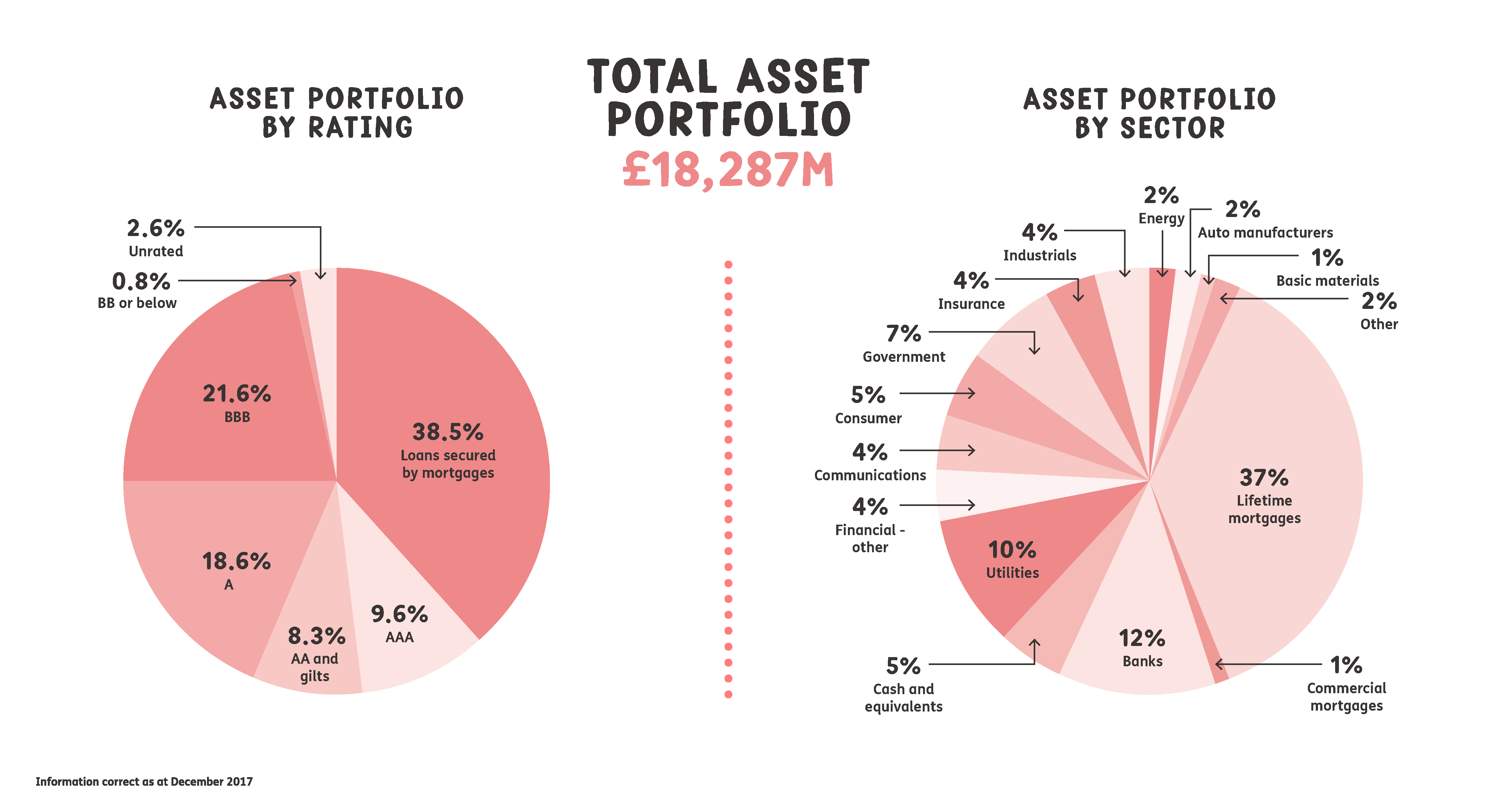 *Percentages relate to total portfolio, totals subject to rounding. AAA and unrated both include units in liquidity funds
The majority of our financial asset portfolio is held in investment-grade, fixed-income securities, such as government and corporate bonds and we actively monitor the quality of the portfolio. Our bond exposure is relatively conservative from a credit rating perspective, with an average A rating and less than 1% of the portfolio below investment grade. In addition, this portfolio is well diversified by industry.
Assets under management - lifetime mortgages
+
−
We also invest in lifetime mortgages (LTM), private placements and infrastructure loans. We are able to exercise a high degree of control over the quality of lifetime mortgages advanced as these are primarily sourced directly from customers, rather than acquiring books of mortgages from third parties. The loan-to-value ratio of the LTM portfolio was 29% at 31 December 2017.
Our repayment risk on lifetime mortgages arises from the No Negative Equity Guarantee (NNEG) we offer on the product. We promise that a customer's estate will never have to repay more than the market value of the house. If the loan plus accumulated interest were to exceed the sale proceeds, we would have to write off the difference. Our lending process has ensured we have low levels of NNEG claims. We also work hard to minimise conduct and reputational risk, recommending that any children are made aware of the mortgage, and that the borrower has their own lawyer, not one recommended by us.

Our lifetime mortgage portfolio is well diversified geographically. The lowest loan-to-value levels are in London, other metropolitan areas and the South East, so we have the largest buffer against NNEG risk in these areas. Even if there is no house price inflation at all over the next 30 years, the loan-to-value will not exceed 100% until our typical 70 year old, 20% initial loan-to-value, customer approaches 100.
Assets under management - infrastructure debt
+
−
We invest in infrastructure debt assets which deliver a good match for our DB liabilities due to their long dated, secured and often inflation-linked cash flows. They also offer higher spreads due to the additional 'illiquidity premium' compared to corporate bonds which we are able to capitalise on as a long-term 'buy and hold' investor.
Our investments in this asset class have a market value of just over £0.5bn (as at 31 December 2017). The portfolio includes investments in the Walney Extension offshore wind farm in the Irish Sea, regulated electricity distribution networks in Finland and a Scottish Registered Social Landlord (the equivalent of an English housing association).
Assets under management – private debt placements and commercial real estate debt
+
−
We invest in private debt placements. These are corporate bonds raised privately (and sold to a small number of investors) typically by investment grade companies. They offer access to a wide investment opportunity set, attractive spreads due to the additional 'illiquidity premium' given private nature and higher recovery rates. These investments have a market value of just over £0.5bn (as at 31 December 2017).
We also invest in commercial real estate debt. These are loans to individuals, trusts or companies secured by commercial property. They offer the advantages of private placements with higher recovery rates delivered by the security provided by the underlying property. To date (as at 31 December 2017) we have invested c.£240m. Like private placements, individual investments tend to be smaller in size so our investment is secured across a large number of properties.
Our approach to asset liability management
+
−
Our starting point to investment is to ensure we have the cash flows from our financial asset portfolio to pay policyholder obligations as they become due. We match asset cash flows closely with liability outflows. We match our longer duration liabilities with lifetime mortgages and our shorter duration liabilities with bonds.
Our projected asset cash flows are in excess of liabilities. This excess arises due to the prudent reserving approach we adopt, together with the Solvency II capital we are required to hold.
Independently rated investment capability
+
−
We were independently rated by Fitch in August 2017 as 'A+' strong Insurer Financial Strength rating. They have assessed the Group's investment risk to be low, due to a conservative investment strategy. We hold a diverse and high average rating of bond holdings.
Fitch viewed our exposure to the no-negative equity guarantees on our LTMs as limited due to the strict controls on the maximum loan-to-value ratios (LTV) we offer on our LTM policies.
A dedicated team of investment specialists
+
−
Our team of investment professionals are responsible for asset sourcing and investment management for the Group. Their focus is to ensure that cash flows from our financial asset portfolio are sufficient to meet the payment obligations arising from the Group's retirement income portfolio.