RELATIONSHIPS
---
First of all, remember that this is all about time: you've been working for years, and now – almost overnight – you're retired. You need time to adjust and this is where strong relationships make all the difference. Healthy and harmonious relationships give us a greater sense of wellbeing and have a positive impact on our quality of life.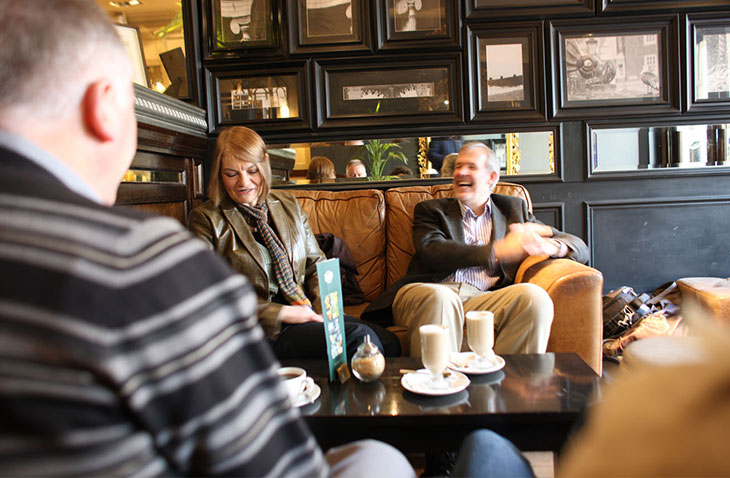 How will my relationships change when I retire?
If you live with a partner, the chances are you're not used to spending all day every day with them. See if you can pursue new interests together and separately. This could become a time for re-discovering each other and reconciling any past differences you've had.

Talk to each other as much as you can. Be honest about your expectations, explore how much personal space and time you'd like – and they would like – to try new things, try activities on your own or with other people.
Do also bear in mind when you're going to retire, as well as how. The partner who retires second may feel some resentment – particularly if that person is also doing most of the housework.
What about my family?
When you retire, you might want to spend more time with your family. It's worth remembering that adult children often lead busy lives, so this may not be possible. Why not think of some ways to offer them practical help and support instead, like babysitting or a spot of gardening?
If I have to care for someone, what then?
You may find yourself as the main caregiver for a family member in the future. This can be a stressful time, so make sure you get as much help as possible by asking friends and family to help where they can. Take a look at our benefits section to make sure you're getting all the financial support available to you.
What about a new relationship?
Of course, this could be an exciting time for you. A new lease of life. Many people, as they get older and have more time on their hands, want to explore new friendships and there's no reason at all why those might not develop into warm, loving relationships over time.
It's important to bear in mind that your family (children in particular), may need time to adjust if you develop a close relationship with someone, but be open to new experiences, take things slowly – or quickly! – and enjoy yourself.
What about when relationships become negative?
Whilst healthy relationships are positive for our wellbeing, occasionally where we rely on others for care and support those relationships can sometimes turn negative. If you find yourself in this situation, or you think you might be approaching this situation, it's important that you seek help. Age UK has important information that helps you to understand if this might be you and, if so, how you manage the situation.