Online scams
---
HMRC phishing email
You may have received something similar to the email below recently. This is a 'phishing email' which aims to get personal details (including banking details) from people by pretending to be someone else.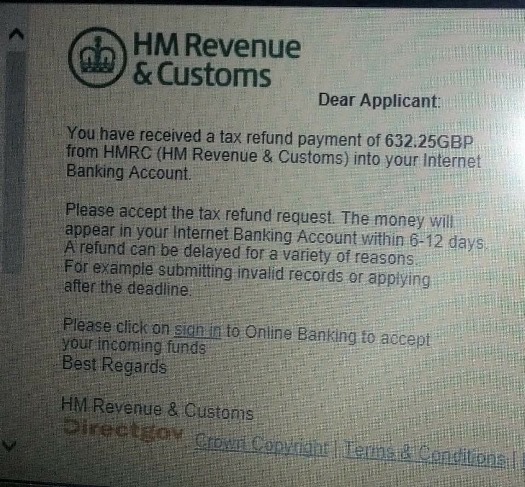 These types of emails can also include malware (software that can damage a computer system), so by clicking on the links or opening attachments you could be putting your personal computer and your personal information at risk.
What should I do if I receive an email that I don't trust?
As a general rule, the best thing to do when you receive an email that you are unsure about is to:
avoid sharing any personal details;
avoid clicking on any links or attachments;
report it to the organisation they are posing as;
delete the email.

What do HMRC advise?
HMRC advise they will never:
send notifications of a tax rebate by email;
ask you to disclose personal or payment information by email.
For more information about how to distinguish between genuine and phishing emails from HMRC, visit their website here.