Your health can begin to deteriorate later in life, making gardening a little more challenging. We've put together a few ideas to help you make your garden more accessible.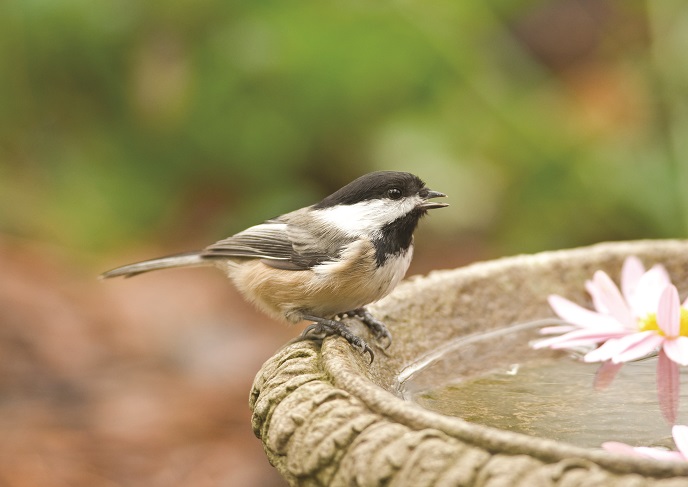 Planting areas
How much weeding would you like to do in the future? Rockeries, for example, are tricky – weeds wedge themselves under the stones and rocks don't offer much comfort for kneeling. Instead consider growing alpines in pots – they can be displayed easily, mulched with decorative gravel and require little or no weeding. You could also consider the use of polythene sheeting to reduce the task of weeding.
Raised beds
These are easy to look after, can be enjoyed without having to stoop and can be designed to incorporate seating. Raised beds aren't for everyone though – some wheelchair users find them awkward and prefer to work at ground level using adapted tools.
Here are a few of our top tips:
Consider a raised bed in an L shape or triangle to divide up your plot and maximise sheltered areas for seating.
Dry stone walling (with planting into pockets of soil in the vertical face of the wall) gives you a great natural look.
Wider beds are generally easier to look after – they allow more room for 'easy-care' shrubs.
Railway sleepers (new and reclaimed) make excellent low cost options for construction but avoid using reclaimed railway sleepers for vegetable patches or seating areas – they can contain tar.
Consider low cost materials too such as breeze blocks – you can always paint them to make them look more attractive.
Growing tables
For gardeners using wheelchairs, growing tables can be an advantage over traditional raised beds as it's possible to sit closer to them straight on, rather than having to twist sideways. They are best suited to small plants with shallow root systems, salad crops and small ornamentals such as alpines and bedding plants.
Vertical planting
Vertical planting can be adapted very well to suit gardeners who find bending difficult or for small courtyard gardens. Treebox offer some really interesting options.
On a budget?
Try hanging sheets of planting pockets to a fence or wall (great for edible and ornamental plants). When planting in hanging pockets, start from the top so that any falling soil or compost doesn't get stuck on the plants below.
Feeling artistic?
Small kits are available to hold just a few herbs – and they can be built up to create living works of art!
Unsightly wall/fence to cover?
Try using rambling roses, clematis or ivy to cover them up. But bear in mind they do require pruning.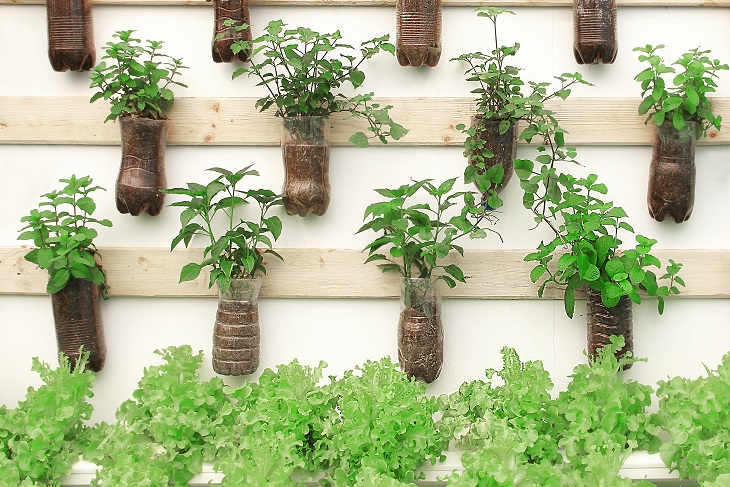 Image courtesy of prapann/Shutterstock
Paths and paving
Paving is a worthwhile investment in a new garden and is an important decision to get right. While other materials such as gravel may be cheaper, paving is much better for wheelchairs (and for other wheeled things such as bins, children's toys and pushchairs). There are many paving materials available that can be used alone or combined together to give your garden
a unique look.
Here are a few of our top tips:
Paving with mortared joints tends to be easier to keep weed free than block paving.
Steer clear of slippery materials like slate and York stone.
Think about making your paths wheelchair friendly (the Sensory Trust recommend widths of between 1-1.5m).
Think about adding wider areas for seating, sculpture or planted containers to add interesting places for rest.
Paving with strongly contrasted colours can help make the garden safer for people with partial sight.
Steps
Steps are very important to get right, particularly if you are unsteady on your feet. The most important thing to remember is to keep the tread and height consistent. The maximum recommended height of a step is 150mm (anything else could be too much of a stretch). But bear in mind that a step height of less than 75mm could be a tripping hazard, so aiming for something in the middle would be ideal.
A generous tread (the horizontal depth of a step) is also essential. The ideal depth is 450mm, but if you don't have much space then aim for no less than 280mm. For walking frame users you will need to adapt these measurements – aim for a tread of at least 550mm and a maximum height of 100mm.
It's also helpful to use step nosings to clearly mark where the edge of the step is, and a contrasting colour with a strip of at least 55mm is recommended.
Slopes
1:15 is the recommended gradient for a wheelchair – though 1:20 is more comfortable.
Keep the ramp no longer than 10m. For longer ramps add a level resting platform of about 2m before the next ramp.
Textured surfaces at the top and bottom are a great help to anyone with visual impairments.
Low kerbs can be useful to keep wheels on the path. At least one handrail is helpful for people with limited mobility.
Seating and shelter
Seating can make a very attractive focal point. Consider an arbour seat for the ultimate place to rest, relax and shelter from the elements all-year-round.
Greenhouses
Look out for greenhouses with a 'low threshold' entrance to increase accessibility. Wheelchair users may also have to alter the doors as they normally open outwards which makes access difficult.
Six practical things
Don't forget the practical elements of the garden – you probably use these bits the most, so it's important that you can access them.
Wheelie bins need a smooth step-free route to the kerb side.
Washing lines can be fixed to the correct height for you and in a place that is not difficult to get to.
Consider an outdoor plug socket – it makes jobs like mowing much easier.
Incorporate easy-to-use knobs/handles to any gates/doors.
Plan plenty of places where you can fill up a watering can so that you never have to carry a heavy, full can too far.
If a new water system is too expensive, think about where you can use a garden hose and sprinkler system or a water butt that collects rainwater.
Easy enjoyment
Think about designing the garden so that it can be enjoyed from the house too. That way anyone who struggles to get outside, especially in cold or icy weather, will be able to take pleasure from the garden throughout the year as well as watch the grandchildren play.
Consider placing a water feature, bird feeders, bird bath or pots of attractive flowers close to the house so that they can be seen and enjoyed with ease.
Garden lighting is also worth a thought – great to extend warm summer evenings as the night draws in.
Of course, one of the best ways to ensure that your garden is accessible, whatever your physical ability, is to ensure that you have the right tools for the job.
Image of bird courtesy of Geral A DeBoer/Shutterstock