With Easter just around the corner, you may be looking forward to spending some egg-stra (ok we'll stop now) time with the grandkids during their school holidays.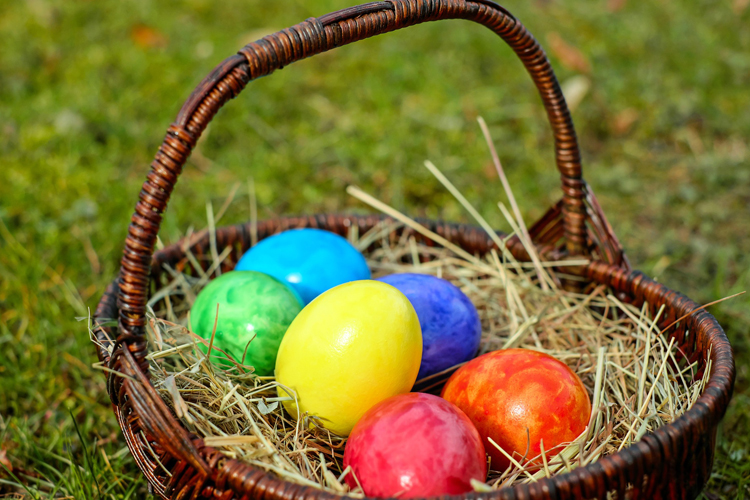 But Easter doesn't have to be all about chocolate – there are lots of other ways to spend some quality time with the grandkids during their school holidays. Here are some of our favourites.
Decorate eggs
Decorating eggs is a lovely tradition that is thought to have originated in Germany – the beautiful colourful eggs can be found adorning trees, bushes and homes at this time of year. And decorating them is a lovely activity for a rainy day which could provide you with hours of fun.
Once you've hard-boiled them (or blown out the contents), you can get really creative - you could make them into different characters, create different patterns or add glitter, pom poms and feathers to create a bit of texture. Country living have provided some great inspiration here.
Go on an Easter egg hunt
No Easter holiday is complete without an Easter egg hunt. It's a great way for the grandkids to burn off some energy by running around the house and garden to unearth all of the hidden (chocolate) treasures. If you wanted to make the egg hunt really challenging you could turn it into a treasure hunt, giving them a series of clues to solve for a mental as well as a physical work out.
Visit a National Trust property
The National Trust have a variety of activities on over the Easter holidays. Depending on where you are you could learn some wild survival skills, watch some 'quacky races', meet some new-born lambs, look at some spring flowers or take part in some 'family ranger' days. You can find out more about what your local National Trust properties offer on their website.
Make Easter egg nests
Making Easter egg nests is something that even young grandchildren can join in with – as long as you are willing to embrace the mess! You can use Shredded Wheat for a more realistic nest texture, or cornflakes if you don't have Shredded Wheat in your cupboard already. Then simply add melted chocolate (perhaps after it has cooled if you have very little helpers), mix together and spoon into cake cases. Then add chocolate eggs to the top and leave to set. Or, if you want to try something more challenging, the BBC Good Food website have an excellent range of ideas.
Make an Easter bonnet
This activity is definitely an oldie but a goodie, and probably something that we can all remember doing at primary school at some stage. You can buy very basic bonnets to decorate for as little as £1 from shops such as Hobbycraft, or simply use a paper plate and some strong cardboard to make a base. After that, the world is your oyster. You can go for a themed Easter bonnet, go as over the top as you like, or keep it tasteful and (ahem) stylish. Just hope that your grandchildren don't want you to wear them out on one of your adventures…
Visit a farm
If you are lucky enough to live near a farm, spring is the perfect time of year to visit. You may get to see lambing season in full swing, see sweet little chicks emerging from their eggs or get to go on a tractor ride. Whatever your local farm offers, the grandchildren will love getting to see the world of farming first hand.
Whatever the weather and whatever you decide to do, your options are open at this time of year. Enjoy!
Image: Couleur