We have put together a list of 20 great gardening activities that you can enjoy with your grand-kids.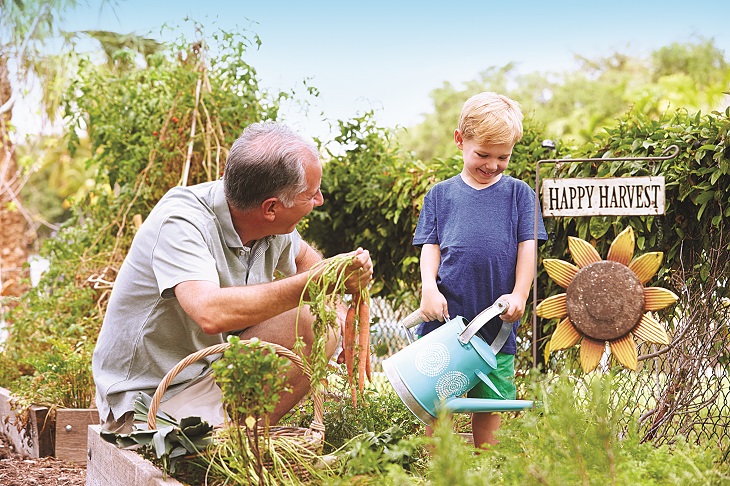 1. Let a few vegetables go to seed
Let some vegetable plants go to seed so that you and the grandchildren can see what the flowers look like. Then you can collect the seeds together ready for next year, looking at the different shapes of pods and capsules.
2. Sowing and growing
Children love growing things – it's like magic and is a great way to learn about where food comes from, what plants need to survive, and how good vegetables can taste!
Here are a few seeds to sow with children:
Courgettes – space savers that can be grown in a container with success.
Tomatoes – start them early in the spring.
Runner beans, french beans, and peas – nice big seeds that are easy for little hands to push into the ground.
Sunflowers – easy to grow and fun to see who can grow the tallest.
3. Grow a pineapple
A great activity for a rainy day!
Get a fresh pineapple.
Twist the leaves off the top.
Peel off some of the lower leaves to expose about 3cm of the base.
Let it dry out for a day or two so that the leaf scars heal.
Pop the stalk leaves into a jar of water with the base at the bottom.
Change the water every few days.
Before long you will have a rooted pineapple plant that can be planted into a pot of soil to create a great houseplant.
4. Make a cress head
Use a hard-boiled egg shell (after you have eaten the egg).
Paint it with a smiley face.
Wet some kitchen paper and put it in the bottom of the egg shell.
Wet some cotton wool and put it on top of the kitchen paper.
Place the cress seeds on top of the cotton wool.
Leave in a sunny spot.
In a few days your pot will have a full head of cress hair ready for a trim!
5. Make a chive hedgehog
Get an old plastic bottle.
Cut a large opening in one side.
Make drainage holes in the other side.
Cover in hessian or an old pair of tights and tuck inside the bottle.
Add buttons for eyes and nose.
Fill the bottle with soil.
Plant the chive seeds.
6. Paint pebble animals
Mark your vegetable rows with decorated pebbles. Acrylic paint works best, or simply add a layer of polyurethane glue once the paint is dry to keep them waterproof.
When you have mastered this you might want to paint some terracotta plant pots to match your garden's colour scheme.
7. Plant pop sticks
Plant labels are easy to make using wooden lollypop sticks and felt tip pens.
8. Make a photo collage/calendar
Pictures of the garden or of you at work can make nice presents or a fantastic Christmas calendar.
9. Make some natural music
Create wind chimes and mobiles to hang out in the garden. Use leaves, pine cones, conkers, seed heads, or anything else you like!
10. Make a miniature garden
Help them create their own little garden in a tiny patch outside or in a pot. You could even give it a theme – a few pebbles and shell and perhaps a bit of driftwood on top of the soil will give it a lovely coastal feel.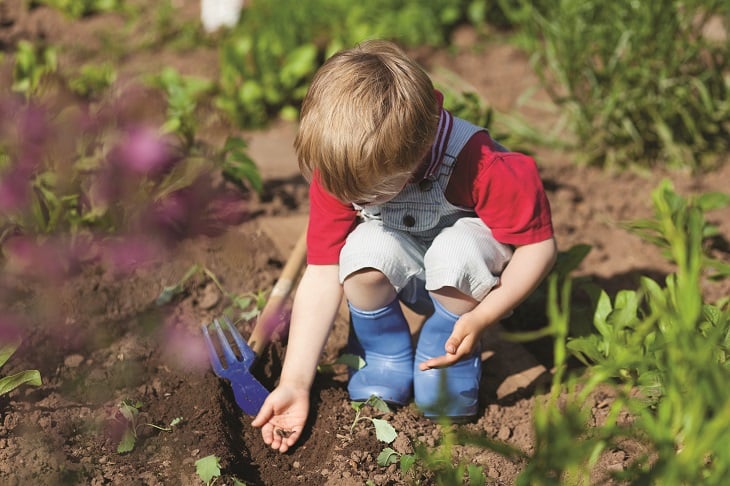 Image courtesy of racorn/Shutterstock

11. Build a scarecrow
They are easy to make out of tinsel, plastic flower pots, string, canes, or old clothes stuffed with straw.
12. Water play
Paddling pools are a favourite for supervised summer play, with guaranteed squeals of laughter. A hose pipe or sprinkler can also be the source of much enjoyment.
13. Build a sandpit
Sandpits are always a popular place for independent play – especially if there are a few plastic cups and scoops to use along with a watering can. A lid is a good idea to cover it after play so that it is kept clean.
14. Help birds build their nests
Put out nesting material for the birds in spring so that you can watch as they come to collect it. An old citrus fruit net can be stuffed with hay, or leave out some pet hair or fluff from the tumble dryer.
15. Build an insect hotel
Use short sections of old garden canes bundled together and tied, then hung up in a sunny spot.
16. Make a woodlouse wonderland
Put some stones and leaves into a clean plastic margarine carton. Put some woodlice inside. Cover one half with card and see where the woodlice prefer.
17. Set up a snail trail
Put a snail on a piece of hard clear plastic and watch it from underneath to see how it moves. Sprinkle a bit of flour on there and watch as the snail eats it.
18. Insect art
Make fingerprint mini beasts – centipedes, ladybirds and spiders are easy. Or create beautiful butterfly paintings by putting a blob of wet paint for one wing, and folding the paper in half with the fold right by the paint to give you the other wing.
19. Create a wildlife journal
Ask older children to note down and draw what they saw, and when, so they can build up a journal of the year.
20. Reap what you sow
A wonderful activity for the children to do – they can help you harvest your produce and eat it straight from the plants as they go (as long as no pesticides have been used). Berries, peas and tomatoes are always popular.
Safety first
As long as you take a few common-sense precautions, you can ensure that your sessions outdoors are perfectly safe.
Top tips:
Watch out for sharp blades and only let children use tools with your supervision.
Take care not to leave any tools on the ground including things like hose pipes and buckets which can easily trip you up.
Always supervise young children near water.
Never eat any seeds or plants without checking first.
Wear gloves when digging and wash your hands well with soap afterwards.
Perhaps the greatest fascination of all to young children, though, is the wildlife they encounter in the garden – from worms and woodlice to birds and bats. This time is a great opportunity to get them hooked, and teach them about the importance of building a wildlife-friendly garden...
Watering image courtesy of Monkey Business Images/Shutterstock