If you are looking for someone to inspire you for 2018 and beyond then look no further…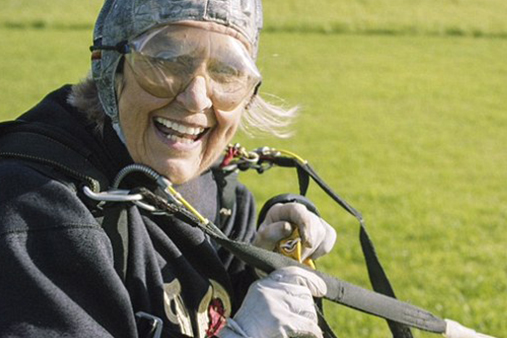 We all have days when we think that life seems a little much, and all we want to do is hibernate in front of the fire rather than keep our commitments. And while we may use this time to dream about the hobbies that we could have taken up or the goals that we might have set, most of these tend to be 'should haves' and 'could haves'. But for a small and mighty few this is not the case. These people are exceptional. Rather than using their retirement to relax and take things down a notch, these retirees decided to do the opposite. Here are our favourite super-retirees of 2017 and their amazing achievements:
Dilys Price – the world's oldest female solo skydiver
Dilys is an 85 year old grandmother from Cardiff who is a retired teacher. Dilys hit the headlines this year for other reasons though. This year she achieved the Guinness World Record for being the world's oldest female solo skydiver. And her heroics do not stop there. At the age of 54 Dilys – then terrified of heights – completed her first parachute jump. Since then she has completed a dizzying 1,139 jumps for charity, and has raised tens of thousands of pounds. And not only that…Dilys has also spent her life helping others. As a teacher during her working life, she spent her time helping young people in wheelchairs learn to dance. Later, in 1996 she funded her own charity The Touch Trust that has since become a renowned centre for movement education for those with autism, dementia and profound disabilities. Without Dilys the world would certainly be a much less exciting place!
Kenneth Jones – The London Marathon's oldest runner
At almost 84 years old, Kenneth Jones ran the London Marathon this year, clocking a very respectable time of 6 hours and 41 minutes. Kenneth is also one of only 12 people who has been lucky enough (and fit enough!) to run in every single London Marathon since it started in 1981. And he actually travels over from Northern Ireland every year to take part. While he is not the oldest runner to ever take part – that honour is held by Fauja Singh who ran his last London Marathon aged 93 and his last marathon at age 100 – he is certainly very impressive!
Reg Buttress – Britain's oldest supermarket worker
Most of us dream of retirement. Not Reg Buttress. He started working at Sainsbury's in Cwymbran, South Wales at the age of 57, and at the age of 65, he retired. But for Reg, retirement wasn't all it was cracked up to be and he was quickly bored. So rather than using the time to relax, Reg quickly 'un-retired' two months later. He claims that the main appeal of working in the store was the opportunity to meet new people and enjoy their company. And it has stood him in good stead. Reg finally re-retired in September at the impressive age of 94. Sadly he passed away in November this year, but he will continue to be an inspiration to all those who knew him and his story. His grandson David wrote afterwards that 'Reg was a truly amazing man and inspiration to all of the Buttress clan. Life won't be the same without him.'
Ken and Margaret Harris – married for 80 years
Ken and Margaret Harris are Britain's oldest married couple. They celebrated their 80th anniversary this year, having married two years before the beginning of World War II. Since that day, Ken has carried a photo of their wedding day with him every day in his wallet. Ken, who is 102 and Margaret, 99 now both live in a care home together, and they hold hands every day. What an amazing achievement.
June and Peter Singleton – Foster carers for over 150 children
At the age of 60, June and Peter were about to settle into the relaxation of retirement, when they saw an advert of the TV looking for foster parents. Initially thinking that they were too old, they decided to find out more anyway. And they have never looked back. They began with weekend only emergency foster care, and respite care for other foster carers, and then before they knew it they had had fostered 152 children within their first year. While it has been challenging at times, June maintains that it has been the best thing they ever did and that it have given her husband Peter a new lease of life. And without a doubt, it is an amazingly kind and inspiring way to have given something back during your retirement.
So having proven that age is no barrier to enjoyment and achievement, we cannot wait to see what the super-retirees of 2018 will bring!
Image credit: Dilys Price