If you have a garden already, chances are that you will have a collection of garden tools, but it's worth having a good look at them to make sure they're the right ones for you and your plot.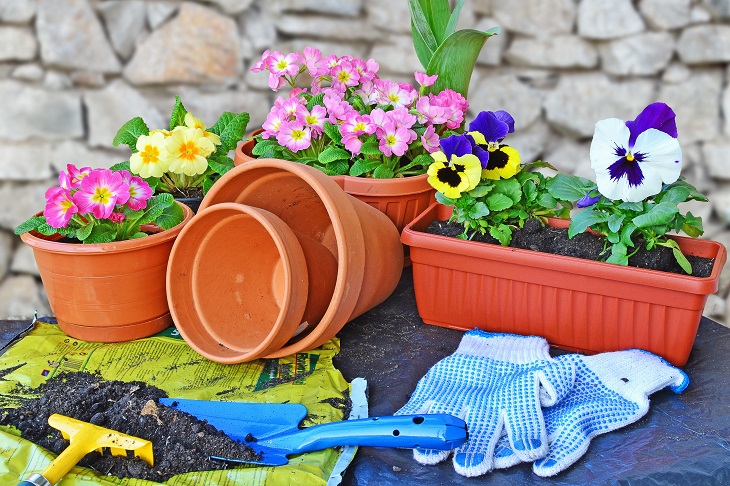 Tools used for gardening are only helpful if they are in good working order, and are comfortable and easy to use. This may all sound obvious, but most of us are guilty of keeping tools that are old and heavy, blunt, rusty or the wrong size for us to hold comfortably. So it's well worth checking you have the right kit before you begin gardening in your retirement.
Essential kit
Gloves
Kneeling mat
Bucket
Digging spade and fork
Hand trowel and fork
Pair of secateurs
Pair of loppers
Other helpful tools used for gardening
Dutch hoe – useful for cutting down small weeds and breaking up the surface of soil
Rake – useful for clearing leaves from the lawn
Long handled edging shears – useful for trimming lawn edges and borders without having to bend down too much
Half-moon edging iron – useful for keeping the edges of borders straight
Three pronged cultivator – useful for cultivating surface soil
Pruning saw or bow saw – useful for cutting branches
Lawn edging shears – useful for trimming lawn edges
Hedge trimmers/shears – useful for trimming your hedge
Knife – useful for pruning
Riddle – useful for removing stones from clumps of soil, cleaning gravel for paths or sowing seeds
Wheelbarrow – useful for moving heavy / awkward objects around the garden
Dibber – useful for digging planting holes
Broom – useful for helping keep your garden tidy
Label the space where your tools are kept so you can quickly check at the end of the day that nothing's missing.
The model for you
We all come in a variety of shapes and sizes: thankfully so do tools used for gardening. Short people don't have to put up with using great long spades and forks and people prone to backache don't have to struggle with heavy solid ones. There is even specially designed equipment so that you can dig without bending, or tend the beds from your wheelchair.
Spade
Used to cultivate the soil and make holes for planting – it needs to have a sharp blade to cut through the soil and ideally be strong and light weight.
Forged steel is stronger, but stainless steel can be much lighter and cuts through the soil more easily. Choose one that has a comfortable handle, feels the right height for you and is not too heavy.
Digging spades – have a larger blade for more heavy duty digging
Border spades – have a smaller blade so can be easier to use
Junior spades – extremely popular with adults, especially retirees who appreciate the lighter weight and petite size. They can also be perfect for older grandchildren!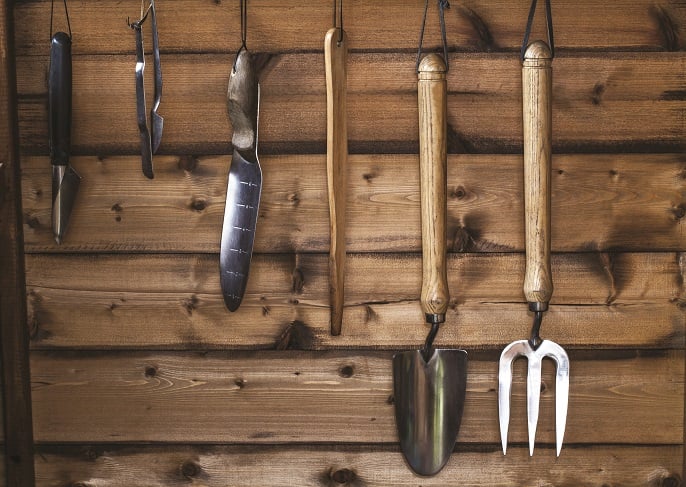 Image courtesy of Ed Samuel/Shutterstock
Fork
A great partner to the spade. Used for:
General cultivation
Lifting root crops as they are less likely to cause damage than a spade
A host of other garden tasks
They are available in the same sizes as the spades
The twin-handled spade
Designed to make digging easier in the garden borders. This tool takes a bit of getting used to but once you have mastered it you will be able to dig and lift plants without ever needing to bend – ideal for those who struggle to bend or have back problems. This tool is available from Backsaver Garden Tools.
The automatic spade
A perfect companion for anyone with an allotment or a large amount of digging to do. It is used to dig trenches of soil and has a spring and lever attached just above the blade so that it throws the soil forward without any need to bend. It'll cut your digging time down dramatically and is a great idea if you have back problems – or want to prevent them! This is also available from Backsaver Garden Tools.
Hand trowel and fork
Wonderful for working in containers and raised beds as well as for weeding and planting when kneeling. Look for:
Sharp, strong blades – cheap trowels and forks are prone to bending
Long handled versions – perfect if you have trouble getting up and down, or you don't want to bend too much
Mid-length versions (60cm to 90cm) – ideal for reaching into the middle of a raised bed, or use from a wheelchair
Three-pronged cultivator
Available in the same sizes as the hand trowel and fork – it's wonderful for breaking up the surface of compacted soil and removing weeds.
Secateurs
Designed to cut through stems up to 1cm thick: they are invaluable. Avoid trying to snip through thicker stems than they can manage though – they may warp and become blunt. Weigh up how much you want to spend as prices can vary hugely. There are two main types:
Bypass:
Work like a pair of scissors
Cut with accuracy close to the main stem
Not great on tougher stems
Can easily become blunt / misaligned
Anvil:
Perfect for tougher stems
One sharp blade
Can crush the stem it's cutting
It's worth investing in both types of secateur if you have a lot to prune. It's also worth looking for versions with a ratchet mechanism if you don't have much hand strength. They allow cuts to be made easily by cutting in stages. Ratchet models exist for both by-pass and anvil types and generally don't add much, if anything, to the price.

Image courtesy of S_Photo/Shutterstock
Loppers
Useful items to have – they help you cut through thicker stems up to about 3cm. They have longer handles than secateurs for extra leverage, and are available in bypass and anvil versions. Telescopic-handled versions allow you to reach up to around 2.7m up. But be warned, when working above head height these tools can feel extremely heavy, so look for lightweight handles made of aluminium or fibreglass.
Power tools
Great for repetitive tasks. There are many types on the market including leaf blowers, lawn mowers, hedge trimmers, grass trimmers and shredders. They can be expensive, some are heavy and you certainly won't need them all. The most commonly used are lawn mowers and hedge trimmers which can save a lot of time and effort if you have a large lawn or hedge. Use with care to avoid accidents.
Accessories
Wheelbarrow – Useful in a large garden, but not if there are a lot of steps.
Gloves – Good for hygiene and to protect you from thorns when pruning.
Kneeling mat – Makes weeding and planting more comfortable. Look for versions with handles – a great help when standing up again, and they usually double as a seat.
Plastic buckets and trugs – Useful for weeding, tidying, mixing compost, soaking pot plants, and carrying things around the garden. Look for lightweight strong plastic with comfortable handles.
Hose pipe – Worth investing in if you have a lot of watering to do.
Watering can – In a variety of colours and styles, some shapes are easier to hold and pour from. Make sure that you don't get one that's too big – you'll only have to lug around a heavy can!
Take good care of your tools
Put them away at the end of the day.
Don't forget to clean them, especially if they are wet.
Brightly-coloured handles can help you locate missing tools more quickly.
Sharpen blades every now and then to keep your tools working well for you.
If you don't have sharpening tools some cobblers may be able to sharpen them for you.
Top tips
Very cheap tools break and will cause frustration.
The most expensive is not always the best. It might be the heaviest and most solid, but if you struggle to lift it, then it's not the best for you.
Try before you buy. Good shops have 'test' secateurs and hand tools out of their packets for you to lift, hold and try opening and closing. At the very least, make sure that you can pick them up!
Ordering off the internet can be a great money saver but it will save you nothing if you end up with tools that don't suit you.
New tools can take a bit of getting used to. You may need to work with them for half an hour or so before you get to grips with them.
Always wear safety glasses when pruning or trimming.
Flower pot image courtesy of Whiteaster/Shutterstock