Why retirees should consider setting up an online blog.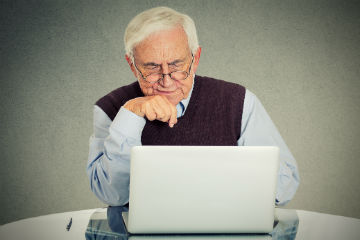 If you're confident going online, there's a high chance that you will have read a blog post at some point. Blogging is particularly popular among young people who regularly share their opinions and details from their lives in their online blogs. This medium is also frequently used by journalists to add extra opinion to current affairs, so it's not just for millennials.
In fact, starting a blog during your retirement could be a great way to pick up a new skill and throw yourself into a new world of opportunities that you could never have even imagined being available to you 15 or 20 years ago.
So, what exactly is blogging all about and why might it be fun for retirees to try for themselves?
What is blogging?
Blogging was first talked about in the 1990s; the word 'blog' is an abbreviation of 'web log'. Many blogs are like online diaries, with entries on a range of topics, but others are focused towards one main theme such as travel or cooking.
You can use a blog simply to record your thoughts or you can turn it into something bigger - it's becoming increasingly popular for people to make a living from their blogs, with brands paying them to review products or talk about their company online.
If you're already familiar with posting updates from your life on social media platforms like Twitter and Facebook, think of a blog as somewhere you can go into more depth.
Wordpress is a popular website where you can create your own blog for free, and statistics compiled by Wordpress show that more than 409 million people regularly read over 23.7 million blogs every month - and that's just from one host site, so you can see just how big this phenomenon really is.
Just think, millions of people could be reading your posts, providing you with a whole new world of online friends during your retirement, meaning you should never feel lonely.
So, how can you get involved?
Starting your own blog
You need to be reasonably confident using a computer and going online in order to start your own blog, but then it's fairly straightforward to get started. You need to choose a host site - popular ones apart from Wordpress include Blogger, Weebly and Tumblr - register for a profile and pick a layout that you like the look of.
Choose a name for your blog and think about the kind of things you'd like to post - is there going to be a theme? - and that's all you really need to get started putting your writing out there. If you want your blog to be a big part of your life, capture the attention of others and maybe lead to some new opportunities, you might want to consider going on a course to learn some SEO (search engine optimisation) or coding skills. More and more young people have this knowledge and your blog will be competing for views with theirs.
The benefits of blogging for retirees
This opportunity to learn new skills will provide you with a new hobby after you have finished work for good and putting your mind to tasks that you need to concentrate on will help to keep it active, which research has shown can prevent the onset of degenerative conditions such as dementia.
Blogging could also be a different way for you to keep in touch with your grandchildren or with friends and relatives who live overseas. They'll be able to see what you've been up to and you'll be able to keep up with them if they like to blog as well. You could even use your blog as a place to record memories from throughout your life for younger generations in your family to read in the future; you're bound to have a lot of fascinating experience in the world, so you should take advantage of the opportunities available to share it.
It can also be a way to make new friends in the online blogging community. If your content is particularly engaging, you might even find yourself invited along to blogger meet-ups where you'll be able to interact with other blog authors. Make sure you have an email address attached to your blog so that the organisers of these types of events know where to find you.
As we mentioned earlier, some brands like to send samples of their products to review. For example, a hotel brand might pay for a night away for a blogger in return for a review, or you might get sent a new kitchen gadget to use if you agree to write about it on your blog. The opportunities that blogging can open up are huge, so put yourself out there and you never know what might come your way.
Blogging could help to provide you with a new sense of excitement and lease of life in your retirement, showing that blogging is not just for the kids and that the older generation has something worthwhile to say too.
© 2017 Axonn Media Ltd. All rights reserved. Any views and opinions expressed in news articles are not those of Just Retirement Limited, Just Retirement Money Limited or Partnership Life Assurance Company Limited. News supplied by Axonn - NewsReach.
Image credit: Siphotography via iStock