Lifestyle
30 October 2018
Bonfire Night is coming up soon - and what better time to enjoy making some traditional tasty treats with your grandchildren?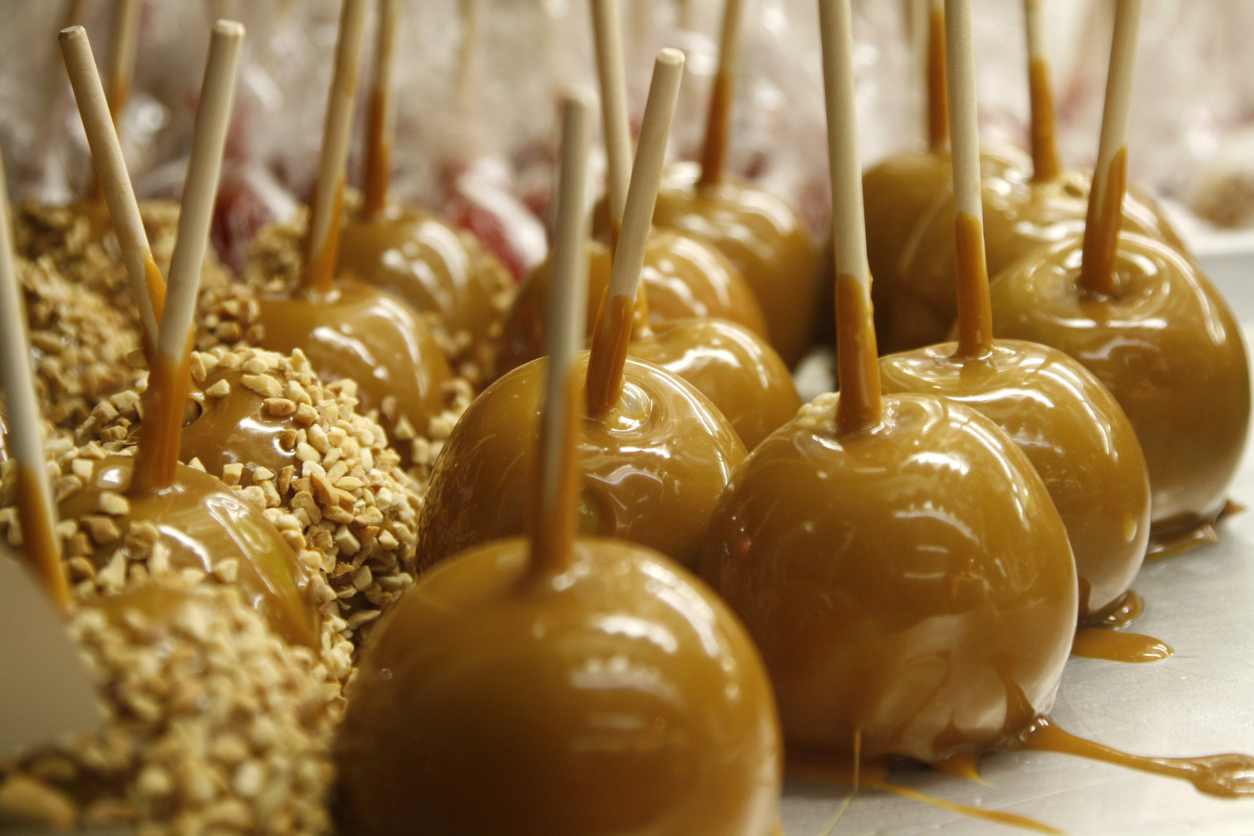 This time of year may be a rather exciting one for your grandchildren. After half-term and Halloween, all the excitement of Bonfire Night is yet to come.
While the event traditionally takes place on 5 November, which falls on a Monday this year, there will of course be lots of public displays on over the preceding weekend.
This may provide you with a number of opportunities to spend time with your grandchildren enjoying the huge blaze, the spectacle of the fireworks and the fun of sparklers.
As well as the pyrotechnics, it is a great food and drink occasion. After all, what better time to enjoy something tasty or warming than on a chilly autumn night?
There are several kinds of food that are as traditional to Bonfire Night as a Roman candle or Penny for the Guy. These include parkin, bonfire toffee and toffee apples.
Toffee apples
Toffee apples are the easiest of all to make. Firstly, put your apples in a bowl and pour boiling water over them. This will help ensure they lose any waxy coating, so the caramel coating will stick. After this, remove any stalks and push wooden skewers into them.
For enough toffee mixture to cover eight apples, you need 400g of caster sugar, one tsp of vinegar and four tsp of golden syrup.
Add the sugar to 100 ml of water in a pan and boil for five minutes until the sugar has dissolved. Then stir in the vinegar and syrup.
After this, continue boiling until it reaches the 150 C hard crack stage. If you don't have a thermometer, try pouring a little into a bowl of cold water - if it is done it should harden instantly.
Once this is done, dip each apple in the mixture and then place it on a greaseproof baking tray. The mixture should harden around them very swiftly.
This will give you your toffee apples, but for an extra treat, try dipping them in some hundreds and thousands or chocolate chips to make them even tastier.
Parkin
Parkin is a traditional sticky, gooey cake, a Yorkshire specialty and a staple for Bonfire Night.
To make 12 servings of this, you need 110g soft butter, 110g soft dark brown sugar, 55g black treacle, 200g golden syrup, 225g medium oatmeal, 110g self-raising flour, two tsp ground ginger, one tsp ground mixed spice, two beaten medium eggs, a tablespoon of milk and a pinch of salt.
You need to preheat the oven to 140C (or 120 C in a fan oven) / gas mark 1. While this is warming up, grease and line a 20cm by 20 cm square cake tin.
Next, put the butter, sugar, treacle and golden syrup in a pan on a low heat and melt slowly and gently. Don't let it get so hot it starts bubbling. Once melted, mix in and allow to cool.
The dry ingredients should be mixed together in a large bowl, with a well in the centre. This is where you pour the cooled mixture from the pan. Add in the beaten eggs and milk, and mix it all in.
After this, pour the mix into the baking tin and put it in the oven for 1 ½ hours. Keep checking it as there is a danger the cake can get too dry and over-bake.
When you take it out of the oven, leave the tin for 20 minutes and then take it out, placing the cake on a rack to cool.
The parkin should be wrapped in greaseproof paper and kept in the cake tin for at least a day before you cut it, so next weekend is the time to bake it! This delay will ensure it is moist and has a richer taste.
Bonfire toffee
Finally, there is bonfire toffee. For this you need oil for greasing, 450g of dark brown sugar, 125 ml hot water, 1¼ tsp cream of tartar, 115g of black treacle and 115g of golden syrup.
The sugar and water should be dissolved on a low heat in a pan, while weighing out the other ingredients in a well-greased jug to make it easier to pour them out. Add all these to the sugar when it has dissolved.
Using a sugar thermometer, boil until it has reached 140 C, which can take up to half an hour. Then tip the mix into an A4-sized tin lined with greased non-stick parchment. Let it cool.
When it sets, remove the now hard toffee from the tin and use a toffee hammer or rolling pin to break it into pieces.
By making sweet treats like these, you can make Bonfire Night even more fun for your grandchildren, as well as enjoying some great baking fun with them first.

© 2018 Axonn Media Ltd. All rights reserved. Any views and opinions expressed in news articles are not those of Just Retirement Limited, Just Retirement Money Limited or Partnership Life Assurance Company Limited. News supplied by Axonn.
Image credit: sgreer721 via iStock