Lifestyle
04 December 2018
With Christmas coming, you could go to the shops to buy decorations, but why not have a fun day making them with your grandchildren?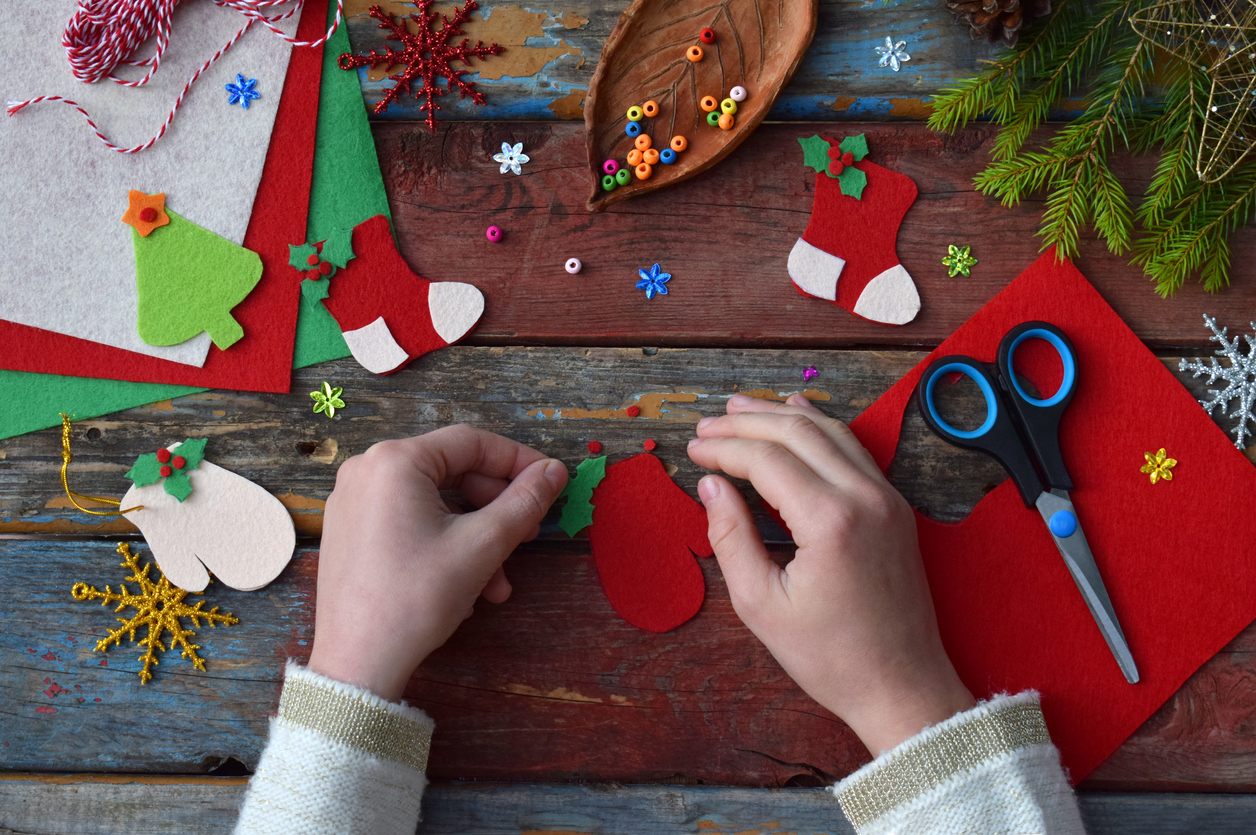 With Christmas now less than a month away, your grandchildren will now be enjoying their advent calendars and getting increasingly excited as the festive season approaches.
Indeed, for a few weeks now the shops will have been full of bunting and merchandise, while sparkling lights and Christmas trees will have been put up everywhere from town centres to front gardens. Before long, everyone bar the biggest scrooges will have the lights, baubles and tinsel out.
It may be you have started doing this yourself after extracting the box of decorations from the loft. However, from one year to the next some of those decorations are bound to be broken or look rather worn.
Get crafty
You could head down to the shops to buy more baubles and tinsel, paper chains and fairy lights, but why not get crafty with your grandchildren and make some decorations with them? This will be a great way to share some fun and maybe teach them a few new skills.
The easiest way to make anything involves a paper and glue. For young children, this can be lots of fun, although prepare for a bit of mess!
Using your own skilful hands, you can cut various shapes and get the kids to add some glitter and glue. A great example of the kind of thing you can make is a Robin, cut from brown paper or card. Simply dab some glue where the breast will be, and sprinkle some red glitter. Stick on a couple of eyes and a little beak with yellow cardboard, then punch a hole through his back and add some string to make a hanging decoration.
Paper chains
Paper chains are another simple and easy thing to make. Using coloured paper, you can cut out a long line of strips, making sure each one is of similar size. Then you can form the chain by looping each successive strip around the link before it and fastening it in place with glue or by stapling it. Use alternating colours to provide lots of variety and check the eventual length runs across your ceiling without dangling so low that it gets in people's way.
Easy tree decorations to make
A really crafty Christmas decoration you might want to make with older children involves two sewing needles - which is why it might be a bit risky for younger kids - and a set of buttons of various sizes.
Simply thread two needles with one piece of string and push these through the holes in two small buttons. Add on more and more buttons in the same way, getting gradually larger to make it into a cone shape. Then tie off the string and you will have a Christmas tree-shaped decoration to hang on the tree.
A really easy decoration to make involves five cocktail sticks, which can be arranged into a star shape. Then tie the ends together with coloured tape, with the last one having some string attached as well to make it into a simple hanging decoration.
Everyone loves a snowman, and this can be done with two polystyrene balls of different sizes.
Start by pinning these together with a cocktail stick and then tie on a piece of ribbon by the join to look like a scarf. You can then take a piece of colourful pipe cleaner and twist it into a tight ring to make a 'wooly hat', making a small hole in the top of the head to insert it and hold it on. Tie some string around the pipe cleaner so the decoration can be hung.
After this, use a marker pen to draw on details like a face. You can add a bit of orange foam or plastic to make a carrot nose.
Enhance an existing decoration
You don't always have to make things from scratch. For instance, you could take some baubles and add extra elements to them.
An example of this might be to take a copper-colored bauble and add a couple of stick-on eyes, as well as a bit of red tinsel to make a nose. Twist some pipe cleaners around the top to make antlers and you have your own Rudolf!
Alternatively, take a pink bauble and add eyes to that, with a bit of cotton wool for a beard and felt cut into red triangles and sewed together to make a hat and there you are - a Father Christmas bauble!
These are just some of the many homemade decorations you can produce. Not only will you be able to enjoy some great fun with your grandchildren as you make them, but can share in the pride of seeing them on the family tree on Christmas Day.

© 2018 Axonn Media Ltd. All rights reserved. Any views and opinions expressed in news articles are not those of Just Retirement Limited, Just Retirement Money Limited or Partnership Life Assurance Company Limited. News supplied by Axonn.
Image credit: Oksana_S via iStock