Autumn is a great time to go walking, when you can enjoy the beautiful colours of nature without getting too hot or too cold.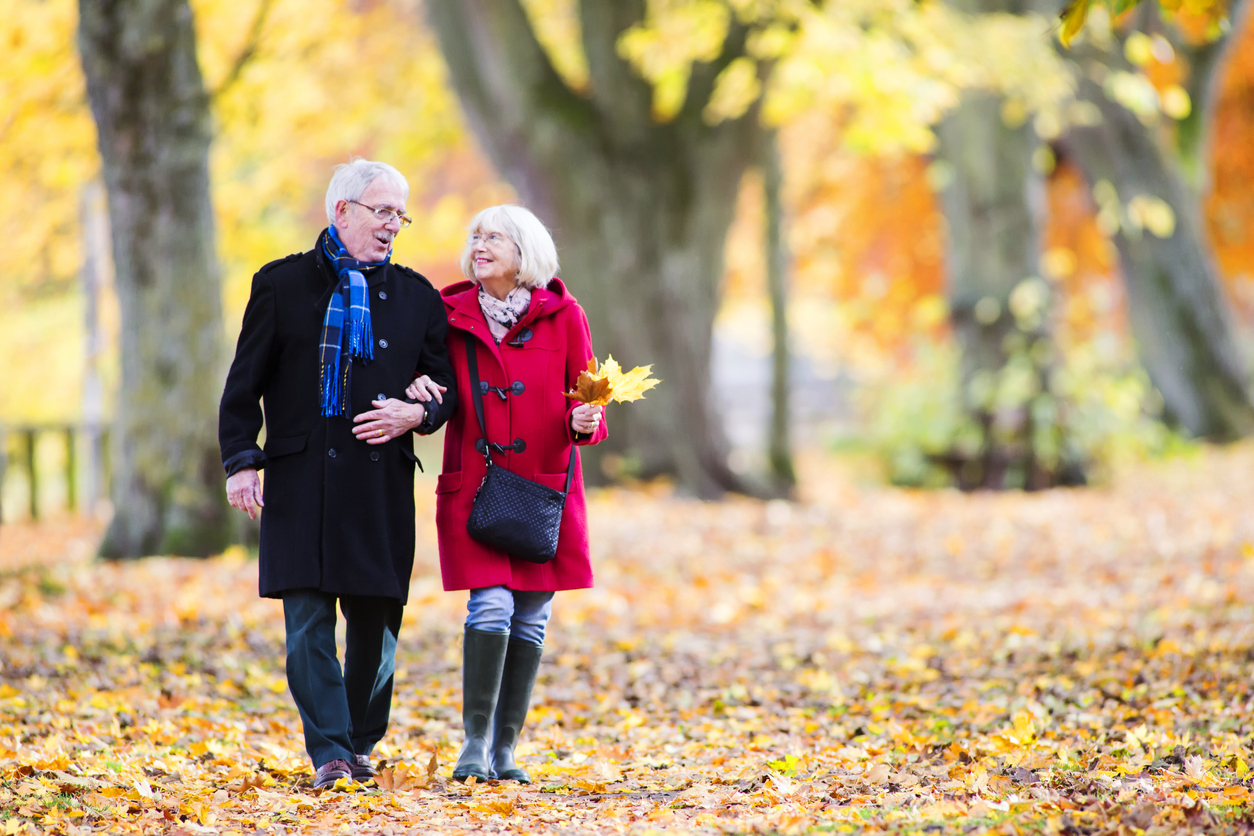 The weather may be colder and the days getting shorter, but there can be no doubt that the autumnal scenery can be some of the most beautiful on show of any time of year.
For this reason, while it can be tempting to head indoors and all but hibernate - especially for retired people who don't have to go out to work - the fact is that you will be missing out if you don't enjoy what the great outdoors has on offer at this time of year.
Besides all that, if you want to keep trim, it's no good sitting down inside for the next few months until spring comes around, especially with the food that promises to add to everyone's waistline over the festive season!
The question is, where should you go walking and how should you prepare for the colder weather?
Don't overdo it
The question of where you should walk depends on a few factors. Firstly, it depends how fit you are.
There are some people for whom age is no barrier, and can still breeze up the hillsides in their 70s. However, for most of us, the ageing process applies constraints. The key is to know what you are up to and plan accordingly.
If you aren't as fit as you once were, have a few creaking joints or get tired more easily than you used to, it makes sense to go for gentler walks that are not too far, nor challenging in terms of the terrain you will take on.
Secondly, you need to consider the time it will take. With the clocks having now gone back and the days getting progressively shorter, it is important to ensure you can be getting back by the time it is dark, unless the last lap home is down a well-lit street, of course. If you are out in the country this will be particularly important, so consider setting off earlier or making your afternoon walk a short one.

Where to go
Of course, your geographical location will also have an influence. If you live in a rural area or by the sea, there will be some obvious attractive options. Should you live in a town or city that may not be the case, so why not check the map and see if there is a big park, or an old railway line converted to a bridleway that you have yet to explore? You may be amazed at the beauty spots that are close by, even in a city.
What to wear
Being well prepared for the outdoors at this time of year is a must. A warm coat that is waterproof is great to wear outdoors in autumn and winter, whatever you are up to, and it will ensure you stay dry and cosy on a walk.
Also, consider your footwear. Put on something sturdy and consider a pair of walking boots and walking trousers if you are heading out into the countryside. Denim is always - and we mean always - a bad idea for walking, especially if it gets wet, whereas cotton is more flexible, comfortable and dries fast.
If you are venturing into the wilds, take a map and compass too, and also a torch in case you do get delayed and come back when the light has faded.
Food and drink
Food and drink is the other thing to consider when preparing. You may be helping yourself stay trim with this activity, but do take something to eat. Foods like bananas, dried fruits or flapjacks are best, because the energy gets into your system very quickly to help you keep going. Lardy things like pork pies are at the opposite end of the scale; you won't get any benefit from them.
If it is very cold, you may benefit from taking a hot drink in a flask. Always take something to drink though, because you can still get thirsty even on a cold day.
Enjoy good company
The other question to ask is: who should you walk with?
If you can get your grandchildren to come out with you, lots of fun should ensue, as you join in with kicking a few fallen leaves and seeing what wildlife you can spot.
At the same time, there are also lots of walking groups around, so if you fancy joining people of various ages in getting out and about, now may be a great time to do so.
Not only will walking keep you fit, help you get some fresh air and get some positive vibes into your mind, but it will also offer a chance to make new friends, have fun and feel you've made the most of the day.

© 2018 Axonn Media Ltd. All rights reserved. Any views and opinions expressed in news articles are not those of Just Retirement Limited, Just Retirement Money Limited or Partnership Life Assurance Company Limited. News supplied by Axonn.
Image credit:DGLimages via iStock