What are the benefits of owning an allotment in retirement?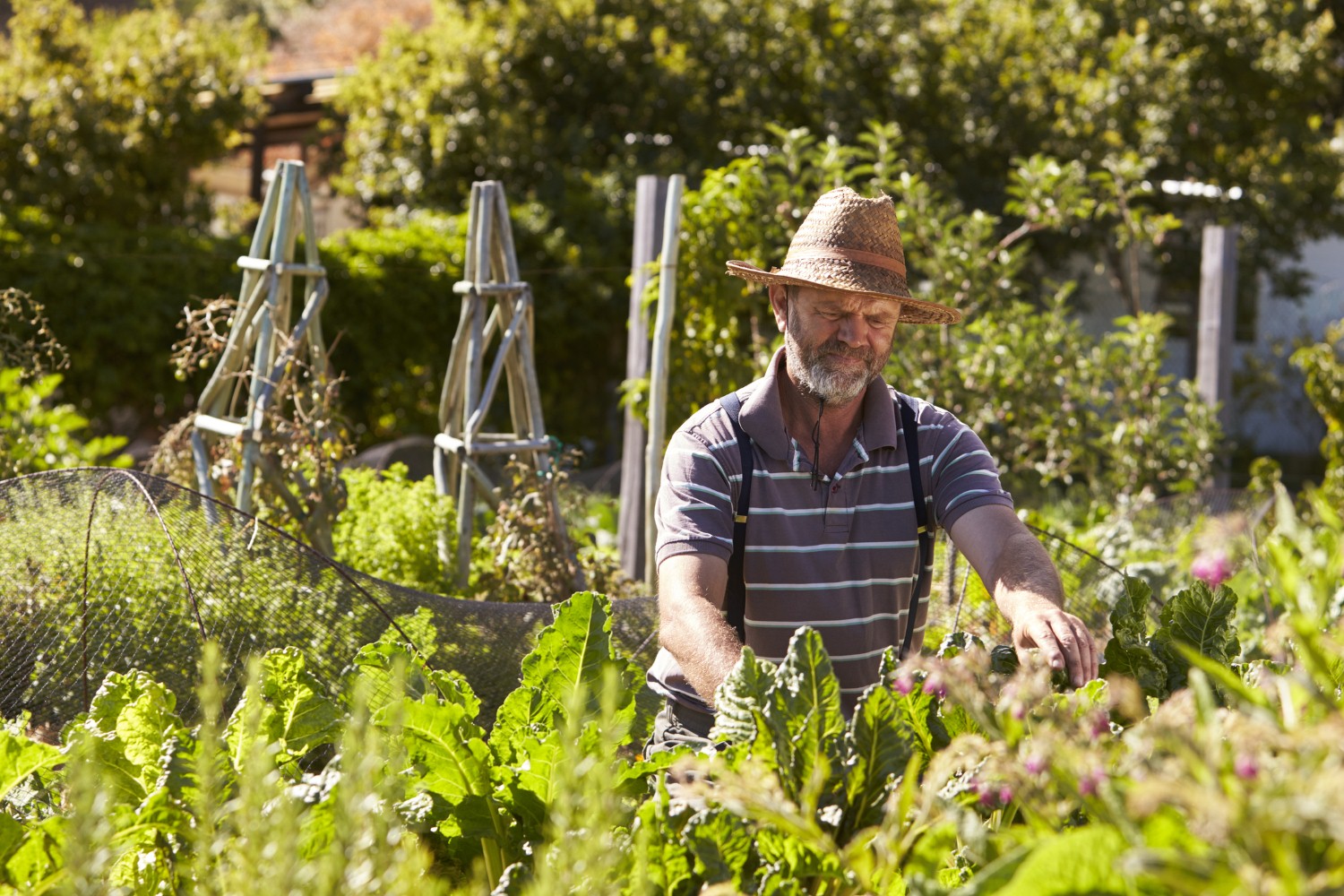 When you're working full-time and juggling your job with raising a family, free time is precious and there isn't always a lot of it to spend tending to the garden.
That's why gardening responsibilities for many of us extend no further than mowing the lawn and occasionally weeding - until retirement, that usually is.
If you're lucky enough to have a garden, you'll have so much more time to devote to it once you've finished working, creating everything from pretty floral borders to a fruitful vegetable patch.
But if you live in a flat or your back garden has been decked or paved over, yet you've always fancied getting green-fingered in retirement, an allotment could be the perfect solution.
Allotments are highly coveted, so you might have to put your name on a waiting list while you're still working, but getting a plot of your own can bring a great deal of joy and myriad health benefits in later life. Here are just a few ways how:
Fresh air and exercise are good for you
Especially during the warmer summer months, it's lovely to get outside and enjoy some fresh air, and all of the digging and planting involved in looking after your allotment is a great way to get some exercise in and keep your muscles moving, which is more important than ever as you get older.
In fact, the National Allotment Society highlights that spending just half-an-hour gardening can burn off 150 calories, meaning it has pretty much the same impact on your body as an aerobics session.
What's more, being outdoors in the sunshine - even if it's only weak, as it unfortunately so often is here in the UK - can boost your vitamin D levels, which play an important part in keeping your immune system in good working order. This means you'll be less likely to get colds and other illnesses, but it's important to always remember to wear sun lotion so that you don't get burnt.
By owning an allotment, you'll be doing your bit for the environment too. If these plots of land weren't used for growing, they'd probably be turned into concrete car parks or supermarkets and the ecosystem could potentially suffer.
Grow your own, and cook with it too
Owning an allotment can also encourage you to eat more healthily and get creative in the kitchen, providing you with another new hobby. But what exactly should you grow?
Versatile veg like onions are a good place to start, as they can be used in a whole host of recipes once they're ready to be harvested. Add them to stews or serve them raw with salads or if you're particularly confident in the kitchen, grate them, mix with egg and curry powder and bake in the oven to make your own onion bhajis - they'll taste so much better than any from a takeaway.
Courgettes are another good starting point, as they require very little care. Get them into your diet by 'spiralising' them and turning them into courgette spaghetti, or courgetti, to serve as a pasta alternative and reduce the calories in your favourite homemade bolognese or carbonara.
Tomatoes are also very popular with allotmenteers and taste beautiful with a fresh salad; if you have lots, turn them into tomato soup, which you'll be able to freeze for the future so you don't have to worry about tomato overload!
There are countless other possibilities as well; grow cauliflower and make your own cauliflower cheese; grow herbs to add fresh seasoning to all kinds of dishes; grow a pumpkin to entertain the grandkids at Halloween and leave you with tasty warming soup afterwards.
But another firm favourite is home-grown strawberries, which are typically harvested in mid-June. Turn them into homemade jam or simply enjoy with cream and sugar or sweetener - they'll taste all the more beautiful for being home-grown.
Boost your mental wellbeing
Looking forward to going to your allotment regularly can provide you with a sense of purpose that you might have missed after giving up work, which can boost your mental wellbeing.
Meeting other keen gardeners at the site can also help you to make new friends, preventing you from becoming socially isolated in retirement, which is a major risk factor for dementia.
Research carried out by the National Allotment Society back in the early 1990s found that growing veg and other plants was the main reason why people wanted allotments, but one-quarter of allotmenteers now say one of their favourite things about their plot is that it provides a place to socialise, make new friends and share produce and growing tips.
© 2017 Axonn Media Ltd. All rights reserved. Any views and opinions expressed in news articles are not those of Just Retirement Limited, Just Retirement Money Limited or Partnership Life Assurance Company Limited. News supplied by Axonn - NewsReach.
Image credit: monkeybusinessimages via iStock