People approaching retirement have more concerns about their financial circumstances than their health, a new Retirement Advantage study reveals.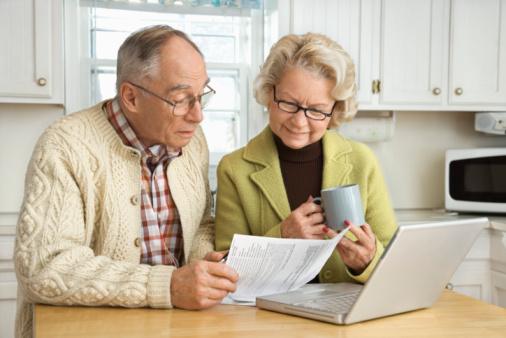 Older people approaching retirement age have more concerns about their financial wellbeing than they do about their health.
This is according to the findings of a new study carried out by YouGov on behalf of Retirement Advantage, which went so far as to suggest that money troubles dominate the thinking of pre-retirees.
Almost half (49%) of people over the age of 50 are concerned they will not have enough money to do the things they want to do in later life. This is significantly larger than the 37% of respondents who are worried about their health.
A further 31% of the nation's over-50s are afraid they will struggle to meet the rising cost of living on the basis of their retirement income alone, and the same proportion have reservations about being able to maintain a comfortable standard of living beyond providing themselves with the very basics - food and energy bills.
In terms of what is most important to older workers when it comes to thinking of finances in later life, seven in ten (70%) over-50s said being able to pay the bills is at the forefront of their mind. Just over half (56%) also said being able to go on holiday is more important to them.
Pensions Technical Director at Retirement Advantage, Andrew Tully, acknowledged that the findings paint a stark picture of the financial affairs of those preparing to leave work and start drawing on their pension.
"Money troubles are what soon-to-be retirees fear most," he commented, adding: "When they should be planning for a long and enjoyable retirement, the over-50s are instead fretting that they won't be able to pay the bills."
Mr Tully emphasised just how important a role annuities have to play in allaying such fears - and that these products are able to provide a stable income for the rest of the person's life. "One of the first things people should do is shop around the market for the right annuity, drawdown plan or a blend of the two," he remarked.
"It is hoped the changes in pensions will increase the amount people are saving for retirement."
While the new pension freedoms introduced by the government in April grant people a much wider range of choice over how they invest their pension pot, annuities still have a great deal to offer.
This is particularly the case for those who could qualify for an enhanced annuity. These financial products offer the pensioner more money where certain health conditions or lifestyle factors are present that could have an adverse impact on the person's life expectancy.
Just like a regular annuity, an enhanced annuity pays a guaranteed rate of income for the rest of the individual's life. It differs from a regular annuity in that its income levels are determined by where the person lives, whether or not they smoke or drink, and their medical history. A lower life expectancy means more money is paid out each month - and advisers are able to arrange this relatively easily.
Mr Tully raised concerns that not enough people are seeking the support of independent financial advisers - meaning many could be failing to identify the pension product that offers the best value and is most closely tailored to their individual needs.
"Given the concern people show over paying for life's essentials, it's vital they speak to a professional financial adviser to understand how to get the best deals and maximise the income they get from their pension savings," he commented.
© 2015 Axonn Media Ltd. All rights reserved. Any views and opinions expressed in news articles are not those of Just Retirement Limited. News supplied by Axonn - NewsReach.