Gyms don't have to be off limits for the over 50s - here are some tips for keeping in shape in the new year.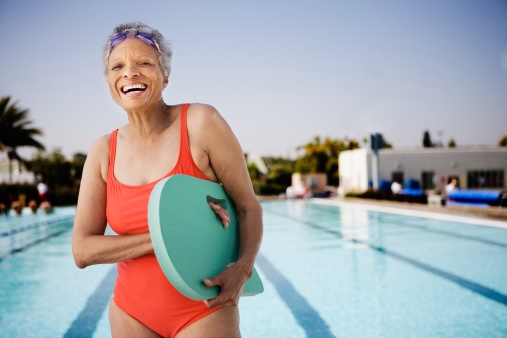 Getting in shape is a very popular new year's resolution for many people. However, you needn't think that exercising is something that should be limited to younger people.
In fact, it is just as important for the over-50s to maintain an active lifestyle. As you may have already guessed, working out on a regular basis offers a range of benefits to your physical health. Among them is boosting your cognitive function, increasing energy levels and lowering blood pressure and blood sugar levels. On top of that, exercise can also improve your balance and overall co-ordination which in turn can reduce the chances of you falling.
Regular exercise can also do wonders for your mental wellbeing and it has been shown to help improve people's mood and sense of self-esteem. According to NHS guidelines, older adults should aim to achieve 150 minutes - or two-and-a-half hours - of moderate intensity activity each week. But how do you go about achieving this?
Before you begin
Whether you're attempting exercise for the first ever time or were active while you were longer, it's a good idea to visit your doctor for a check-up before starting a new regime. Doing so can help you to identify any potential risks or medical conditions that may impact on your exercise programme.
In addition, your doctor may also be able to recommend particular activities or organisations that can help you to meet your goals - whether these are losing weight or lowering blood pressure.
Go running
Running provides a fantastic range of health benefits from strengthening muscles and bones to boosting cardiovascular fitness. It is also a low-cost activity, as the only equipment you'll need is a good pair of running trainers.
If you don't fancy the thought of always being by yourself when out jogging, you can join a local running club or taking part in a Parkrun event. The latter is a nationwide network of five km runs that take place every Saturday morning. Not only are these events free to participate in and accurately time how quickly you complete the course, but you'll also run alongside dozens of other people - something which can give you added motivation to strive for a personal best.
Of course, once you have got into the habit of doing five km run on a regular basis you can attempt to go on longer runs. In time, you might even want to follow in the footsteps of American Harriette Thompson who took up running when she was 76 and at the age of 92 completed her first marathon, becoming the oldest woman to finish a competitive 26.2 mile race in the process.
Sign up to a gym
Gyms are a great place for older people to workout. Not only do they contain a range of fitness equipment - from treadmills and cross-trainers to dumbbells and rowing machines - but are also staffed by health professionals who can offer advice on what exercises are best for you and help you come up with an achievable, yet challenging, training regime.
Admittedly, entering a gym for the first time can be a little intimidating - particularly if it is filled with younger people - but if you're a little unsure it is worth signing up to an induction programme where an instructor will show you all the equipment and advise on how to use them safely.
You'll also find some gyms and health centres provide exercise classes where you'll workout alongside others under the supervision of an expert. Whether you've been going to the gym for a while and looking for something different to try or are a total beginner, you can be sure of finding something suitable for your needs.
Pilates could be a good option for you to try. This activity focuses on stretching and strengthening the whole body, so you may find it helps to improve flexibility, balance and posture. Elsewhere, aqua aerobics and swimming are great activities for older people as exercising in water reduces the amount of stress and strain placed on the body.
With a number of ways to incorporate exercise into your day-to-day life, there should be ample opportunity for you to get in shape in the new year!
© 2015 Axonn Media Ltd. All rights reserved. Any views and opinions expressed in news articles are not those of Just Retirement Limited. News supplied by Axonn - NewsReach.